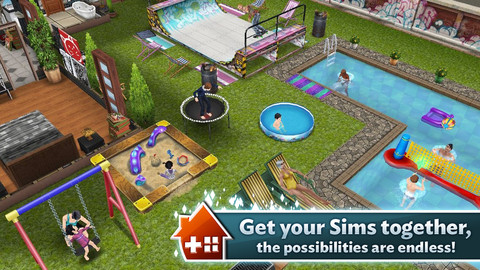 Today's Free App of the Day is The Sims™ FreePlay.  It's definitely geared towards the tween crowd, but it's a ton of fun – especially if you are a fan of the PC version of The Sims™.
iTunes Description:
LIVE FREE! From the creators of The Sims™ 3 series of best-selling iPhone games, comes an ALL-NEW Sims experience that you can play for FREE on iPhone and iPad!

THE CRITICS LOVE IT!

"★★★★★ …The Sims FreePlay is everything you could ever want a freemium Sims game to be." (Gamezebo)

"10/10 …one of the most addictive and highly polished games available and there's no excuse for anyone to not download it; especially since it is free to play (the clue's in the title)." (God is a Geek)
"…plenty of hours of fun… at an excellent, non-existent, price." (148Apps)

LET THE FREEPLAY BEGIN! CREATE OVER 16 CUSTOMIZED SIMS FROM HEAD TO TOE, AND…
• Design dream homes or get fully-furnished houses for your Sims
• Let your Sims get married, make babies, and live happily ever after
• Care for pets, grow gardens, even bake a cake
• Give your Sims careers and earn Simoleons to improve their situations
• Complete goals for Lifestyle Points, then spend them on hip items
• Live with your Sims in real-time (when it's day or night for you, it's the same for your Sims!)

…and most of all, play for FREE!

MORE SIM-ULATING POSSIBILITIES
Will your Sims be friends – or enemies? Form relationships with a slap, a high-five (or some Woohoo!). Make your town bustle with pet stores, car dealerships and supermarkets. Expand your city as you get more Sims.

Be free, Sims! Be free! The opportunities are limitless!
________________________________________
NOTES:
– Play on iPhone 3GS, iPhone 4, iPhone 4S, iPad, iPad 2, iPod touch 3 (3rd generation) or iPod touch (4th generation).
– This all-new experience of The Sims is designed for play on iOS devices and is not connected to our Facebook game.
– You must have an Internet connection to play, so please make sure your device is connected.