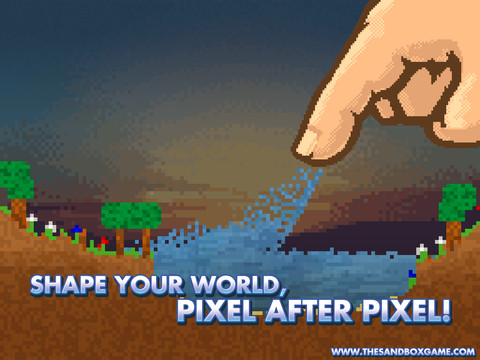 If you like Minecraft, then you'll love today's Free App of the Day. The Sandbox is a pixelated treasure where you're in control.
iTunes Description:
Discover the User-Created campaign, a total of 10 levels free campaign made from the top creations by the community! Can you solve them all?

★★ AWARDS RECEIVED ★★
BEST OF GAMES: HIDDENS GEMS (iTunes)
BEST OF CASUAL GAMES – GOTY 2012 (TouchGen)

————————————————–

"With one of most original game mechanics, fantastic pixel graphics and easy controls The Sandbox guarantees fun for weeks." iReviewT

"It's kind of hard to get bored with so many toys to play with." 4,5/5 148Apps

"The Sandbox straddles the border between game and art project, rewarding players for creativity while giving them near-infinite possibilities." 4/5 TouchArcade

————————————————–

Imagine creating your own universe (complete with amazing Pixel Art), composing your own music, and much, much more. The universe is yours to create or destroy, and the only limit is your imagination!

Start from scratch with basic building blocks like stone, water and soil. Once you discover mud and sand, you're on your way!  Grow plants, raise mountains, generate life and gain access to advanced tools for crafting more and more complex elements.  Before long, you'll be able to access non-organic elements like metal and light bulbs, allowing you to populate your universe with creations both natural and technological.

UNLEASH YOUR IMAGINATION

● Millions of possibilities. Infinite landscape designs. Countless different chemical reactions. Nothing is beyond your reach!
● Embrace your inner Pixel Artist to create or recreate amazing masterpieces
● Compose your very own chiptunes melodies within the game
● Bring life to your creations and watch them evolve, eat, reproduce and die

AND NOW, A SLEW OF EXCITING NEW FEATURES:

● Six exciting campaigns — a whopping 96 game levels in all!
● Add an intelligent life-form to your worlds : Humans!
● Change their behaviour using one of the 4 Job Magic Powders and turn them into a Miner, Builder, Hunter or Woodcutter. Dozens more behaviours will be added over time!
● Recreate the Jurassic Period with giant dinosaurs and volcanoes! Protect your dinosaurs from extinction or recreate the BIG BANG and make them disappear!
● Utilize our new Blueprints and add awesome real-life wonders to your worlds: the Eiffel Tower, Chichen Itza, the Pyramids, the Leaning Tower of Pisa, the Statue of Liberty — even a Pagoda!
● TNT and C4 are now available! Wreak havoc with powerful explosions!
●  Deep-sea fish and fireflies come to life before your very eyes!
● Create amazing chain reactions with several sensor types, including liquid, light and temperature!

NEW MISSIONS AND FREE MANA
● New ways to acquire FREE Mana, such as daily challenges, watching videos clips or many more!
● 55 new missions through five exciting campaigns — a whopping 85 game levels in all!

SHARE YOUR CREATIONS WITH THE WORLD
● Create your universe and then share it in The Sandbox's Online Gallery
● Browse the gallery to see other players' creations
● Rate other players' worlds and add elements too

An entire universe in the palm of your hand!
—————
★ FOLLOW US ★
Twitter: http://twitter.com/thesandboxgame
Facebook: http://facebook.com/thesandboxgame
*Free Kids App of the Day is on ongoing series on iPadKids where we hand select a free app to be featured every day. We can only guarantee that the app was free at the time of publishing, so get in quick so you don't miss out!