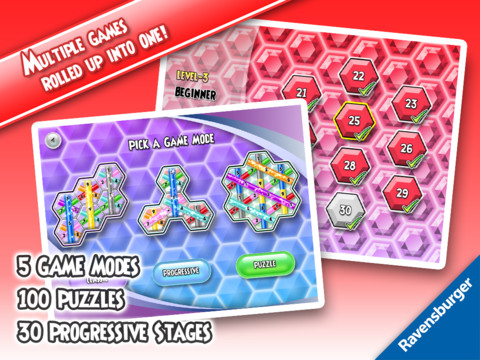 It's been a long week and now that the weekend's here it's time to relax!  Download Take It Easy, today's Free App of the Day.
iTunes Description:
148apps.com
4/5 – "Addictive puzzle mechanics and infectiously fun challenges make Take It Easy an unexpected runaway success."

Appadvice.com
"If you are looking for a great puzzle game to pick up this week, then I highly recommend giving Take It Easy a try. You won't be disappointed."

Boardgamegeek.com
4/5 – "A fun puzzle game"

Touchgen.net
4/5 – "Take It Easy is a fun board puzzle game with a lot of content, and great

It's a puzzle, it's a brain teaser and it's a game! It's all three and much more! It is bingo with strategy! Place your pieces one at a time on the board. To score points, try to form continuous rows of the same color from edge to edge. But one wrong tile and the whole row is worthless. It gets harder as the number of empty spaces on your board, and your possible choices, diminish. Because once a tile is placed, it can't be moved!

Take It Easy is a simple, yet surprisingly addictive and thought-provoking game that will give you endless hours of fun.

Features:

• Three entertaining and visually beautiful game modes:

– Classic Mode: introduces you to the game that started it all.

– Puzzle Mode: test your puzzle solving skills with 100 fun and well-designed puzzles. This exciting new twist to the game will have you swapping pieces in your sleep.

– Progressive Mode: offers 30 stages of different challenges specifically designed for the iOS version. Conquer all stages beforetime runs out!

• Local & online multiplayer: play head-to-head against a friend. Or up to four players on a single iPad! Or play online with friends around the world.

• Game Center integration lets you compare high scores with your friends and players around the world. Will you be Number 1 on the leaderboard?

• Over 40 different achievements: earn points to get that #1 rank and, along the way, win surprising rewards to customize your gameplay.

• Full Retina support: includes stunning high-resolution graphics for the new iPad.

• Already over a million fans are enjoying the award winning board game!

▬▬▬▬▬▬▬▬▬▬▬▬▬▬

Feel free to check out Ravensburger's other games, including Scotland Yard, THE aMAZEing Labyrinth and Puerto Rico, along with many, many others.

Become a fan of Ravensburger Digital on Facebook and find out more about our new apps, exclusive competitions and behind the scenes information about the development of our apps:

http://www.facebook.com/RavensburgerDigitalGmbH
*Free Kids App of the Day is on ongoing series on iPadKids where we hand select a free app to be featured every day. We can only guarantee that the app was free at the time of publishing, so get in quick so you don't miss out!