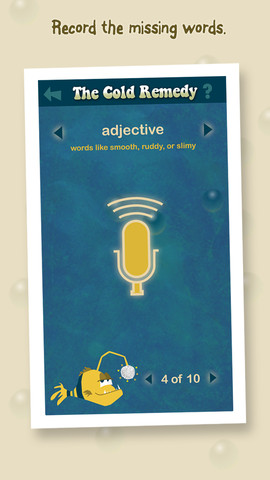 My kids are still too young to write even their own name, but if they weren't, they would have a blast with SparkleFish. Our Free App of the Day is like MadLibs for your iPad and the results will have your kids howling with laughter.
iTunes Description:
SparkleFish is a hilarious audio story completion game that will have you laughing uncontrollably.

"My daughters take turns supplying the words, and then dissolve into giggles when it's played back." – GeekDad (Wired)

"I have a feeling your kids will get a hold of the microphone, silliness will ensue and everyone will be hooked!" – the iPhone Mom

"… SparkleFish inspires children to think more creatively." – lunchbox

With SparkleFish you can record creative words in your own voice for playback inside surprising, ad-lib stories. If you enjoy Mad Libs, then you'll really love SparkleFish. It's fun for all ages, species, individuals, groups, etc.

FEATURES:
* Record your voice to complete each story
* Comes with 5 stories for free
* Save your recordings and listen to them later
* Buy "story packs" (each with 5 stories) for more fun!
* Record the stories as many times as you'd like.
* Great for Teachers, SLPs, and Occupational Therapists
* Also great for people who just like being silly

DEVICE REQUIREMENTS:
* iPhone, iPad, and iPod Touch
* Requires iOS 4.3 or later (Tested with iOS 6)
* Requires a microphone
*Free Kids App of the Day is on ongoing series on iPadKids where we hand select a free app to be featured every day. We can only guarantee that the app was free at the time of publishing, so get in quick so you don't miss out!