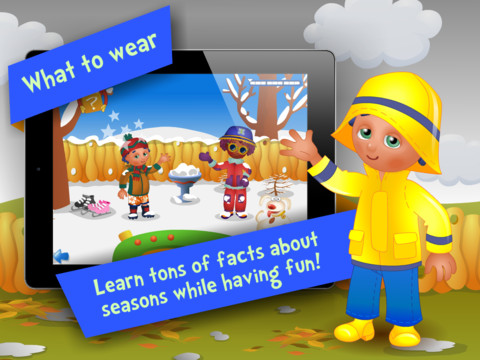 Now that we're transitioning into summer it's a great time to learn about seasons. Today's Free App of the Day is from the i Learn With series by Tribal Nova.  Seasons & Weather! is perfect for preschoolers and rising kindergarteners.
iTunes Description:
Discover these great science games for kids in Preschool and Kindergarten! Top educational app to get children ready for school.
Poko will help your child learn to identify various weather situations in different seasons, and will teach him/her all about appropriate clothing and activities, a curriculum staple in preschool learning.

**Over 2 million downloads of the i Learn With suite of apps.**
• Featured by Apple in Staff Favorite and "Back to School" – Fun with science
• i Learn With apps won numerous awards such as "Best In Family-Friendly Products" – Moms' Choice Awards 2012, "Brain Toy Award" – Academics' Choice Awards 2012.**

"It's one of the best-looking kids apps I've seen" – AppAdvice.com

"A definite thumbs up" – IEAR.org

"Extermely well done..fun to play and educational" – TheiPhoneMom.com

"We've had ample time to test this app with kids and their response has been positive, positive, positive! From a teachers perspective, the subject matter is a curriculum staple in any pre-K program." – Teacherswithapps.com

TRY BEFORE YOU BUY

**FREE**
What to wear – Poko and Beebee want to take pictures of themselves but some of their clothes and accessories seem wrong or inappropriate! Your child needs to find the ones that do not fit the weather.

**Unlock the full version of the app and learn and play with these games:**
Weather conditions – Beebee wants to fill her photo album! Your child needs to help her find the pictures she is looking for that depict certain weather conditions such as clouds, rain, snow, etc.

Days and activities – Your child has to guess which activities Poko did on certain days of the week based on the month of the year and the weather that day.

The seasons displayed in this app refer to the seasons of the Northern Hemisphere, more particularly the U.S.

Primary skill taught: Science – Seasons and Weather
– Simple weather concepts
– Impact of seasonal change on clothing and activity
– Learn months and days of the week

Secondary skills:
– Listening and comprehension
– Observation and matching
– Visual and kinaesthetic learning
– Critical thinking (elimination process)

KEY FEATURES

This app is part of the iLearnWith program for kids 3 to 6 designed to get your child ready for school while having fun!

• Cross curricular game-based learning program in math, science, literacy and more
• Self-adjusting levels of difficulty
• Unique progress tracker for parents
• Detailed success stats for your child that can be compared with children the same age
• Recommended learning path personalized for your child
• 27 fun rewards and medals to motivate your child to learn
• Designed with educational and child development experts

Find out more on www.ilearnwith.com or follow us on Facebook: http://www.facebook.com/ilearnwith

Need Help ?
Have questions, suggestions or concerns? Please email us at support@ilearnwith.com and we'll be happy to help!

Copyright © 2005 Poko. Poko is a trademark of Halifax Film Ltd. All rights reserved.
*Free Kids App of the Day is on ongoing series on iPadKids where we hand select a free app to be featured every day. We can only guarantee that the app was free at the time of publishing, so get in quick so you don't miss out!