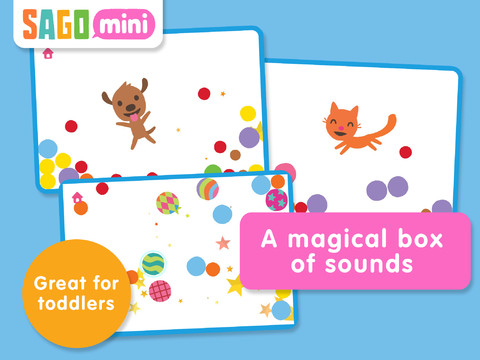 Just in case your toddler or preschooler doesn't make enough noise, there's our Free App of the Day. Sago Mini Sound Box encourages young players to make more (musical) noise while promoting hand-eye coordination.
iTunes Description:
This musical box of sound surprises is perfect for toddlers! Introduce children to sound and music with this magical app – just shake, rattle and tap! Listen for cheerful chimes, horns, drums, animals and more. Your little one is sure to laugh and giggle as they play.

Add notes by tapping the screen, then fling them around or tilt to see them tumble. Sounds play as they bounce, creating fun soundscapes. Watch your child play with tones, explore colors and discover hidden surprises.

Features
• Choose from nine different sound makers
• Explore new sounds, from wind chimes to barking puppies
• Play, listen and learn musical scales
• Tilt to hear sounds bump into each other
• Move sounds around the screen with your finger
• Tap and hold for a silly surprise
• Works with multi-touch – play together with your child.
• Recommended for toddlers
• No in-app purchases or third-party advertising so you and your child are free to discover without interruptions!

"Want to see a 21st century rattle? Innovative and easy to use, this bite-sized App engages young children with music in a way that could only be done with a motion sensing device like an iPhone or iPod Touch." Warren Buckleitner, New York Times.

Sago Mini Sound Box is based on the popular Sound Shaker app, winner of a Gold 2010 Parents' Choice Award and Editor's Choice Award from the Children's Technology Review.

Sago Mini apps are charming and playful. They are the ideal first apps for your little one.

About Sago Sago

Sago Sago is a team of designers and developers who create apps that children love and parents trust. We build on kids' natural sense of wonder, creativity and curiosity to create apps that are positive and fun. Sago Sago empowers kids through play in new and emerging digital platforms.
*Free Kids App of the Day is on ongoing series on iPadKids where we hand select a free app to be featured every day. We can only guarantee that the app was free at the time of publishing, so get in quick so you don't miss out!