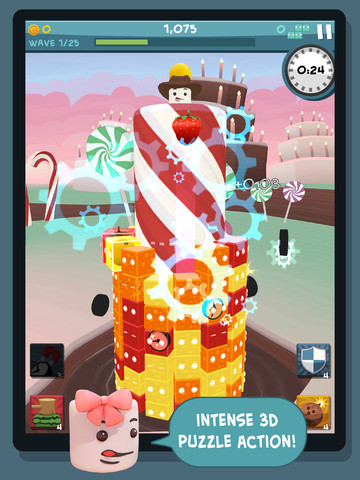 If you like puzzles and marshmallows – and who doesn't?? – then you'll love Rise of the Blobs, today's Free App of the Day.
iTunes Description:
You've never seen a puzzle game like this before!

Waves of hungry blobs are making their way up a column towards our stranded marshmallow hero! Help Marsh Mal survive the invasion by filling blobs with fruit and popping them in massive chains. Once you've mastered the basics, a collection of other game modes are waiting to challenge you in new ways.

You ready to rise to this colorful challenge?

HIGHLIGHTS:
– Amazingly addictive 3D blob popping PUZZLE action!
– SIMPLE to play but chock full of depth and strategy
– A variety of GAME MODES to keep you hooked
– Connect with your FRIENDS via Facebook or Game Center and compete in the weekly leaderboard!
– Connect with your FRIENDS via Facebook and compete in the weekly leaderboard!
– Complete MISSIONS to earn awesome rewards!
– Upgradeable POWER-UPS and perks to maximize your scores
– Beautiful and VIBRANT 3D environments!
– Tons of radical ACHIEVEMENTS to earn
– Outrageous OUTFITS allow for total marshmallow customization
– Get the Robot Invader pass for EXCLUSIVE content!
– Simple, automatic syncing across your devices

Brought to you by Robot Invader, the crazed creators of the award winning ultra smash hit Wind-up Knight!

A word from our marshmallow:

"Hi everybody! I'm Marsh Mal, the high fructose protagonist of Rise of the Blobs. Actually I dunno what any of that means, but that's not the point. The point is you gotta hurry up and download this game! Those blobs ain't gonna pop themselves!"
*Free Kids App of the Day is on ongoing series on iPadKids where we hand select a free app to be featured every day. We can only guarantee that the app was free at the time of publishing, so get in quick so you don't miss out!