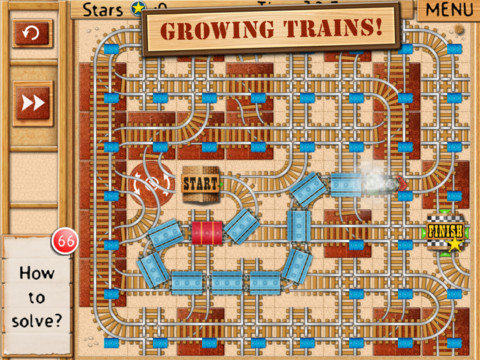 It's a well-known fact that kids must become obsessed with trains at one point in their childhood. That's why we made Rail Maze Pro HD our Free App of the Day – your junior engineer will love it!
iTunes Description:
Rail Maze Pro HD is FREE today with AppGratis

Rail Maze Pro HD is the iPad version of All new Rail Maze Pro game.

Rail Maze Pro brings a lot of new features to our hugely successful game Rail Maze.

New features include:
* Routing multiple trains simultaneously.
* More challenging puzzles.
* There are 5 game modes now!
* Collecting wagons as your train goes.
* High resolution iPad screen support

Solve 100+ of challenging and unique puzzles, build railroads, bomb through obstacles, escape PIRATES on rails. Have a lot of fun with this unique puzzle game.

Features of Rail Maze Pro:
* 130+ puzzles
* Tunnels
* Bombs
* PIRATE trains
* Super long trains
* Global online scoreboards by Scoreloop
* Route multiple trains simultaneously
* Collect wagons as you go
* 5 game modes:
LABYRINTH – Puzzle,
LABYRINTH PRO – Puzzle Pro,
BUILD RAILROAD – Action,
SNAKE – Action,
LONGEST RAILROAD – Puzzle Action

Get Rail Maze now!

PRESS REVIEWS:

"Rail Maze is an amazing puzzle game that will give you so many different options, youll be busy playing it for hours" – AppAdvice.com

"The biggest one is the change of art style, which – as you can see from the comparison screens below – is more honed and cowboy-like"- PocketGamer.com

"Rail Maze, with over 100 levels and thousands of downloads, certainly seems to be one of the hotter casual games out there at the moment."
– Gamezebo.com

"If puzzle games are your thing, you wont want to miss this one" – App Advice.com
*Free Kids App of the Day is on ongoing series on iPadKids where we hand select a free app to be featured every day. We can only guarantee that the app was free at the time of publishing, so get in quick so you don't miss out!