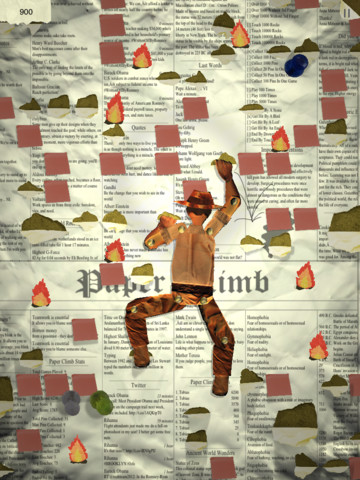 Our Free App of the Day is a 3-finger climbing game that your kiddo will certainly love. Paper Climb will surely test dexterity and hand-eye coordination.
iTunes Description:
★★★ Reviews for Paper Climb ★★★

"This is a no-brainer purchase for iPad owners." – tuaw.com

"The design is terrific. A lot of work has gone into presenting a delightful, visually-clever interface. I love how the developers worked so hard at building a fully realized visual metaphor." – tuaw.com

"Fun wall-climber with great style." – tuaw.com

"The game rocks from head to toe, from graphics and to gameplay." – subpargamers.com

"I am happy to say Paper Climb is one of the best experiences I have had over the past two years of owning an iPad." – subpargamers.com

"The graphical elements of the game are simply fantastic, you can really tell a lot of heart and soul went into designing this." – theipadfan.com

"Paper Climb pushes innovation and easily sticks out among the crowd of other endless-survival games out there." – appstorearcade.com

★★★ About Paper Climb ★★★

Paper Climb is an insanely addictive, infinite climbing game for the iPad! In Paper Climb, your challenge is to climb as high as possible and to avoid extremely dangerous obstacles like falling stones, hordes of birds, the angry eagle, blowing wind and much more!

Paper Climb is the first game for the iPad where you have to be in total control of your fingers! Use your index and middle finger to hold on to stones and move yourself up with your thumb! If you are brave you can also flick your thumb to jump! Also while playing read the newspaper on which you climb and get the latest news from twitter and other interesting facts!

Key Features:
– 3 finger climbing game!
– 12 extremely dangerous obstacles!
– Completely computer generated levels
– Read the latest news from twitter and other interesting facts while playing!
– Cute hand made paper graphics!
– Global leader board
– Many achievements to unlock!
– Global leader board for collecting push pins!

Play Paper Climb! The best reason to cut your finger nails!
Exclusively for the iPad!
http://www.paperclimb.com
*Free Kids App of the Day is on ongoing series on iPadKids where we hand select a free app to be featured every day. We can only guarantee that the app was free at the time of publishing, so get in quick so you don't miss out!