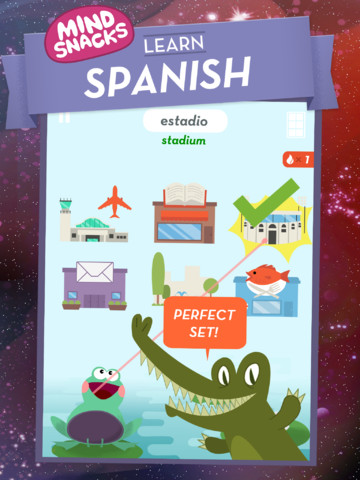 Got a budding Spanish speaker in your house? MindSnacks is today's Free App of the Day, and will help your little one learn to say "Hola" faster than you can flip a tortilla.
iTunes Description:
★ One of the best education apps of the year! – Apple (Rewind 2011) ★

Start reading, speaking & learning Spanish today with MindSnacks! Our language apps feature 9 addictive games that build essential vocabulary & conversation skills. Perfect for students or travelers of any age who want to learn Spanish.

This app will teach you the language skills you need (and without subjecting you to boring flashcards). Soon you'll be able to get directions, order food, meet new friends, shop, relax — and more!

"Learn Spanish" includes one free lesson for your enjoyment! Upgrade to activate all 50 lessons and you'll quickly have no problem understanding everyday Spanish.

★PRESS★

"It's fun to do and it's amazing how quickly users will notice results." – 148 Apps

"This app is not just your average, run-of-the-mill crash course… It includes complex exercises, challenges, and lessons that make the learning process fun and effective." – App Safari

"MindSnacks' games deliver 'bite-sized' learning experiences that use social elements and game mechanics to engage users." – TechCrunch

★FEATURES★

✓ Nine unique mini-games
✓ 1000+ words and phrases to master
✓ Native speaker audio clips and hand-illustrated image library
✓ 50 Spanish lessons designed by Ivy League instructors (Upgrade required for full access)
✓ Personalized learning algorithms to maximize memorization, retention & contextual usage
✓ Enhanced review mode lets you focus on current or mastered lessons
✓ Additional quests & challenges to keep you motivated

★WHAT OUR FANS HAVE TO SAY★
"I found this app looking up edu apps for my daughter but I find myself using it all the time. The simple yet easy to follow interface coupled with some great games make this a wonderful app."

"I highly recommend this to those of you that want a quick, easy, and on-the-go way to learn Spanish!"

"The games in this app keep me excited time and time again as I want to keep playing and unlocking new levels and learning new words!"

★WHY CHOOSE MINDSNACKS?★

Learning Spanish for school, work or travel? MindSnacks makes it easy to learn languages with 9 challenging games you'll want to play again and again. Each game teaches a specific aspect of a new language, creating a well-rounded learning experience that goes far beyond basic vocabulary flashcards. You'll quickly be less reliant on an Spanish dictionary or phrasebook — plus you'll learn the grammar and vocabulary you need for traveling in Spain or other Spanish-speaking countries.

Our unique algorithm reinforces this learning process using proven methods from the field of memory studies. Over time, the games adapt to your individual performance, selectively repeating Spanish words, phrases and grammatical points with which you struggled in past lessons. Complete the lessons, games and side quests, and your avatar will grow smarter and brighter — just like you.

Great for people just starting out with Spanish as well as beginner and intermediate learners!

———–
For more information or support, please contact us at support@mindsnacks.com

You can also:

VISIT US: mindsnacks.com
FOLLOW US: twitter.com/mindsnacks
LIKE US: facebook.com/mindsnacks
*Free Kids App of the Day is on ongoing series on iPadKids where we hand select a free app to be featured every day. We can only guarantee that the app was free at the time of publishing, so get in quick so you don't miss out!