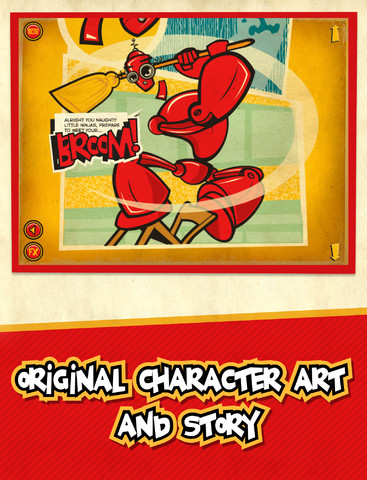 When we discovered our Free App of the Day we were blown away by the original artwork and unique storyline. Kung Fu Robot is the first three chapters of an epic saga presented in a super-cool comic book format. There are a ton of interactive extras, like the "Whack-A-Ninja" mini-game and a sound effect storyboard.
iTunes Description:
He's the Unicycle Champion of the 3rd Northern District, the world record holder for "ice cream sandwiches eaten in one sitting," the reigning champion of continuous nunchucking and once won a bronze medal for simultaneous stomach rubbing and head patting. Meet KUNG FU ROBOT.

This inaugural edition of KUNG FU ROBOT represents the first three chapters of a longer interactive saga for the iPad.

Features:
– Original character art and story by illustrator Jason Bays (Kid Rocket Inc.)
– Original music and sound design by Noel Selders (Substream Music & Sound Design)
– Comic book-style "swipe and read" interface
– "Super Mega Action Sound Effects" soundboard
– "Whack-A-Ninja" mini-game

Titled "Peanut Butter, Jelly & Kung Fu Sandwich," KUNG FU ROBOT blends a robot's love of kung fu, his conscientious sidekick's fear of getting in trouble, android ninjas, a crazy rooster bent on world domination and the pursuit for the perfect peanut butter and jelly sandwich into an engaging adventure for children of all ages.

KUNG FU ROBOT is an immersive experience brought to vivid life by an original storyline, engaging animation, action-packed sounds and a soundtrack that will have toes tapping. This interactive comic book, designed to engage young readers, includes a soundboard that allows users to mix "nunchuck attacks" and "kung fu splats" against a track-by-track breakdown of beats. Kids can also play the role of the story's hero with the "Whack-A-Ninja" mini-game, bashing android ninjas with a broom as they pop out of kitchen drawers and cabinets.''

For more information and to view an online trailer, visit http://kungfurobot.com.
*Free Kids App of the Day is on ongoing series on iPadKids where we hand select a free app to be featured every day. We can only guarantee that the app was free at the time of publishing, so get in quick so you don't miss out!