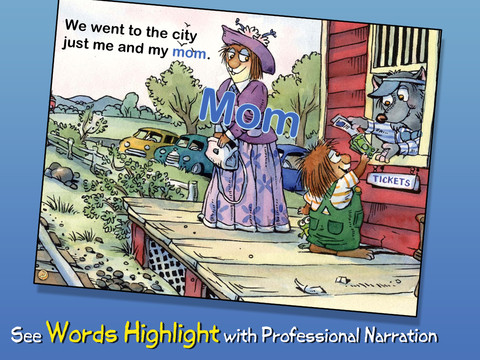 Our Free App of the Day is just in time for Mother's Day!  Download Just Me and My Mom, a Mercer Mayer storybook app.  Little Critter is back in this preschool-friendly tale about special time with Mom.
iTunes Description:
** The full version of "Just Me and My Mom" is now FREE! **

– Featured in "AppsGoneFree" – App Advice
– "Fabulous" – CNET
– One of the 10 Best iPhone Apps for Pre-Readers – Babble.com
– "Exceptionally well done!" – TUAW
– "A delightful child narrator!" – Digital Storytime

Little Critter enjoys a special day in the city with his mother. He means well, but gets himself in trouble all along the way. His mother is oh so patient when Critter loses the train tickets, picks up a dinosaur egg in the natural history museum, and misbehaves at lunch. In spite of his difficulties, Little Critter happily falls asleep on the train going home, exhausted from the big outing with his mother.

Mercer Mayer's Little Critter stories, which address all the major issues of growing up, are perennial favorites of parents and children.

Recommended Ages: 2-5

Features:
– New! Record your own voice
– New! Share voice tracks with others that own this app
– New! Page selector
– New! Options for sound effects, hot spots and alerts
– Three ways to read: "Read to Me," "Read it Myself," and "Auto Play"
– Picture / Word association — words zoom up and are spoken when pictures are touched
– Individual words highlight and are read aloud when tapped
– Find the creature mini-game
– Professional audio narration
– Custom background audio for each scene
– Pages pan & zoom to accentuate the beautiful, original art of Mercer Mayer

——–

Additional Little Critter apps are available!

See the full catalog at: www.oceanhousemedia.com/littlecritter

Gift this app! – Click the "Buy App" arrow on the iTunes® App Store

Visit us: www.omapp.com
Follow us: twitter.com/oceanhousemedia
Like us: facebook.com/oceanhousemedia

——–

Official Mercer Mayer licensed iPhone/iPad/iPod touch app: www.littlecritter.com
*Free Kids App of the Day is on ongoing series on iPadKids where we hand select a free app to be featured every day. We can only guarantee that the app was free at the time of publishing, so get in quick so you don't miss out!