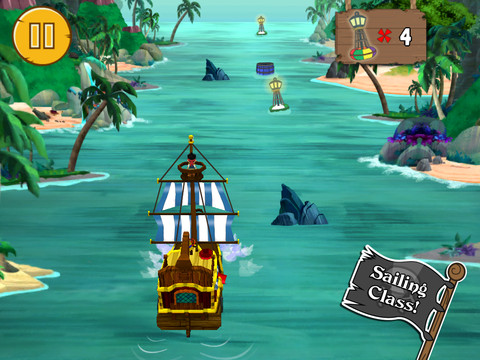 What's a pirate's favorite letter? The letter "Rrrrrr", of course! Your little swashbuckler will love today's Free App of the Day – Jake's Never Land Pirate School.
iTunes Description:
Ahoy and welcome to Pirate School, Matey! Join Jake and crew for four fun-filled pirate themed classes and earn Badges of Honor and an Official Never Land Pirate Certificate. Classes include:

Sailing
Sail Bucky and Jake around obstacles and use Bucky's gadgets to collect barrels, fruit and to shoot beach balls to whales and dolphins.

Pirate Band
Learn to play five different instruments and make a pirate song with Bones and Sharky.

Map & Spyglass
Navigate Never Land with Cubby and then use the spyglass to find exciting treasures with Jake!

Pixie Dust
Fly through mazes with Izzy and Skully and trace shapes to scare away Captain Hook cutouts blocking your way.

Features
•Characters and locations from the Jake and the Never Land Pirates TV show.
•Create a pirate! Capture or import a photo of your child's face into the game!
•Pirate School Captain's Log tracks class levels completed and Badges of Honor earned.
•Air Play Mirroring (iPhone 4S, iPad 2 and iPad 3 only)
•Air Print compatible (Official Never Land Pirate Certificate)

Designed for ages: 3 and up
*Free Kids App of the Day is on ongoing series on iPadKids where we hand select a free app to be featured every day. We can only guarantee that the app was free at the time of publishing, so get in quick so you don't miss out!