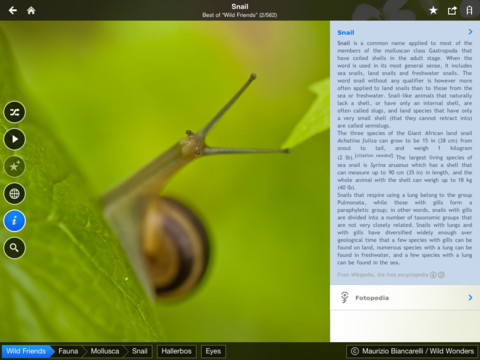 Fotopedia Wild Friends gives children an up-close and personal look at animals in the wild. Today's Free App of the Day will delight with over 2,400 images of wildlife across Europe.
iTunes Description:
Wild animals, as you have never seen them.
Presented by Wild Wonders of Europe and Fotopedia.

*** This app requires an Internet connection, wifi recommended. ***

Embark on an extraordinary adventure and meet new friends; a baby sea turtle hatching, a sleepy polar bear, a fascinating great grey owl… Each encounter will surprise you and probably make you smile.

Perfect for nature lovers, photography enthusiasts, parents and children.

This app is packed with rare and candid scenes, including of artic foxes, chamois, dolphins, ghost sharks, gray wolves, humpback whales, imperial eagles, monk seals, puffins, pygmee cormorants, seahorses or wisents – as well as animals you have probably never seen, such as the amazing saiga antelope.

Europe's best nature photographers explored a whole continent to bring us these stunning images. This required 125 missions across 48 countries, from Albania to the Ukraine, and 1,100 days in the field. With the Visual Stories, built in the app, you can now follow their steps and discoveries.

Wild Wonders of Europe is the largest photography-based conservation communication initiative in the world. We hope this app reminds us all to cherish and protect our precious natural environment, our companions on this planet and their habitat. Conservation works. We just need more of it!

Find out more at www.wild-wonders.com

This app also offers beautiful slideshows, wallpapers, interactive maps, photo sharing, favorites lists and visual stories presenting new adventures, updated every day.

From Fotopedia, the creator of Hall of Fame app Fotopedia Heritage, in partnership with Wild Wonders of Europe.

Features:
•A fantastic collection of more than 2,400 spectacular photos
•Visual stories presenting new adventures, updated every day
•Complete navigation with smart tags, search and interactive maps
•Instant Slideshows and Wallpapers for your iPhone, iPad or iPod Touch
•Shuffle or shake your device to discover new spots and images
•Favorites to create your own photo albums or personalized virtual trips
•Photo sharing via email, Facebook and Twitter
•Open Graph integration with Facebook to easily share your explorations
*Free Kids App of the Day is on ongoing series on iPadKids where we hand select a free app to be featured every day. We can only guarantee that the app was free at the time of publishing, so get in quick so you don't miss out!