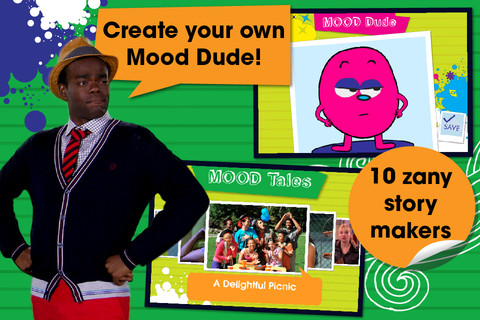 Children with autism can have difficulty with identifying and verbalizing their feelings. Our Free App of the Day is Feel Electric! and helps kids put words to emotions.
iTunes Description:
*** 2013 ON for Learning Award ***
*** 2012 Parents' Choice Recommended ***

**NEW! Multiple user sign-in! Up to four users can track their own moods and keep track of their own scores!**

Are you feeling delighted? Astonished? Anxious? "Feel Electric!" explores all these emotions and more! Part of the Military Families "Finding the Right Word" initiative, this app offers engaging tools that use content and curriculum from The Electric Company to provide opportunities to explore emotional vocabulary and self-expression. Hosted by Electric Company cast members Jessica Ruiz and Danny Rebus, "Feel Electric!" features three fast-paced games, a digital diary to record daily moods, a zany story maker, and more!

** NOTE: Supports iPhone 3GS, iPod touch Gen 3, iPad 1 and later models. **

Features:

▪ 3 vocabulary-based games
▪ Multiple user sign-in
▪ A digital diary
▪ A glossary of 50 emotion vocabulary words and definitions
▪ 10 zany story makers
▪ Hosts Jessica Ruiz and Danny Rebus
▪ A library of Electric Company music, photos, and video
▪ Add your own music, photos, and video
▪ Create your own mood dude
▪ Fun point system and scoreboard

Curriculum

"Feel Electric!" empowers children to explore their emotions by building expressive vocabulary skills.

▪ Introduces 50 emotion words and definitions
▪ Builds emotional awareness
▪ Encourages self-expression

About Military Families Near and Far

Military Families Near and Far is a free, bilingual (English and Spanish) website where families can create, communicate, and stay connected. Developed for military families, the site provides new ways for preschool and school-aged children to express themselves and communicate within their own family networks. This website and its materials are an extension of Sesame Workshop's ongoing efforts to support our troops and their families, which include digital media tools, on-the-ground efforts, plus video and print resources on the topics of deployment, changes, and grief.

For more information, please visit www.FamiliesNearAndFar.org.
*Free Kids App of the Day is on ongoing series on iPadKids where we hand select a free app to be featured every day. We can only guarantee that the app was free at the time of publishing, so get in quick so you don't miss out!