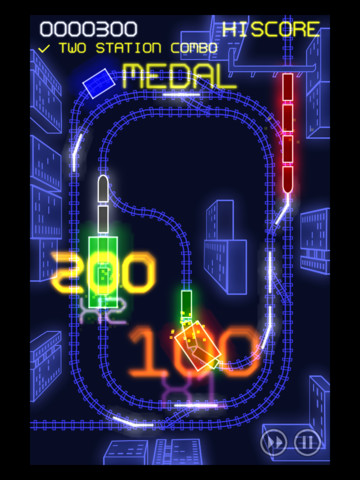 Our Free App of the Day comes straight from my 5-year-old train-loving son, so you know it's got to be a good one. ElectroTrains is a very cool puzzle-style game that features bright LED trains, tracks, and stations. (Don't be surprised if you get hooked, I know I did!)
iTunes Description:
*** To mark the release of the sequel "More ElectroTrains", the original is free to download for a limited time only. With almost 500,000 downloads, this is the full game, with no ads or in-app purchases. ***

Top Rated Game – "LED powered train madness" 5/5 stars (What's on iPhone)

"ElectroTrains is proof that train games don't need to be boring" (IGN)

"With unlockable maps and plenty of awards to seek, ElectroTrains has enough in its back pocket to keep you entertained for quite a while." (App Chronicles)

*** Now includes 3 all new maps in addition to the game's original 3. ***

How long can you keep the railway running smoothly?

Electric blue, red and green trains approach – can you guide them to the right stations and safely away without crashing? Switch the points to send the trains to the correctly colored stations. Tap the trains to speed them up and avoid collisions. Once you've delivered your passengers, send the trains on their onward journeys to make room for new arrivals at the junction.

Simple controls – tap to switch points, tap to speed up the trains.

Perfect for any train journey, long or short.

Super-smooth even on first-generation devices.

UNLOCKABLE MAPS
Electrotrains has six different maps – some easy, some hard.

VECTOR GRAPHICS
Features stylish electro-looks, and support for retina display on the newest iPhone and iPod models.

MEDALS & ONLINE LEADERBOARDS (new in v1.4)
Get medals for your in-game achievements – can you collect them all?
Compare your score with other players around the world.

Ranked #1 in Games/Strategy in App Stores around Europe when it went free for 2 days.
*Free Kids App of the Day is on ongoing series on iPadKids where we hand select a free app to be featured every day. We can only guarantee that the app was free at the time of publishing, so get in quick so you don't miss out!