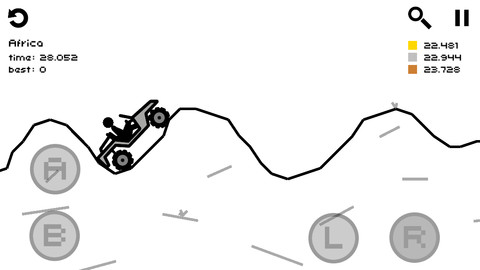 Today's Free App of the Day is Draw Rider – a fun, easy game with pencil-line graphics.
iTunes Description:
You need to get to the end of the road, not crashing. The game is made in black and white style, and has realistic physics. You will find a wide variety of trails, and using the level editor you can create a track of your dreams and share them with other players.

Features:
– Fun ragdoll physics
– Destructible bike
– Four vehicles
– Customizable controls
– Character customization
– Mode Challenge
– Slow motion mode
– More than 85 exciting tracks
– Level editor
– The ability to share your creations with your friends!
– Inversion colors mode
– Online mode

Draw Rider limitations:
– Only 37 tracks instead of 89
– There is only one bike
– No сharacter customization
– No Challenge mode
– No Inversion colors mode
– No Slow motion mode
– Ad supported
– In the editor available not all tools
*Free Kids App of the Day is on ongoing series on iPadKids where we hand select a free app to be featured every day. We can only guarantee that the app was free at the time of publishing, so get in quick so you don't miss out!