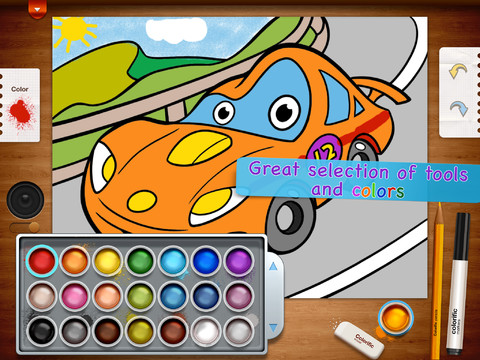 Here's another top-rated app that's free in honor of Autism Awareness Month. Colorific is an awesome drawing app, and also our Free App of the Day!
iTunes Description:

Colorific is supporting World Autism Awareness day. We are so excited about Colorific's success that the app will remain free until the end of April.
⭐⭐⭐⭐⭐ #1 iPad Education App in 17 countries! Also, in the Top 5 iPad Education Apps in more than 40 countries!

"Colorific is one of the best coloring apps on the market." by Famigo.com
Colorific is a fantastic, smart and fun coloring and drawing app for kids! It has brand new stunning design, a great deal of awesome tools, lots (60) of templates to color and a blank page to draw on, so your kids can be creative and artistic without damaging your home wallpaper! The app provides an easy-to-use environment helping your kid to develop and improve drawing skills, boost creative thinking and have fun!

We worked really hard on our latest app update to bring drawing and coloring experience to the whole new level. We're very much confident that you'll find our new UI to be very intuitive, kids-friendly and so easy-to-use that even small children will love using it!
*Free Kids App of the Day is on ongoing series on iPadKids where we hand select a free app to be featured every day. We can only guarantee that the app was free at the time of publishing, so get in quick so you don't miss out!