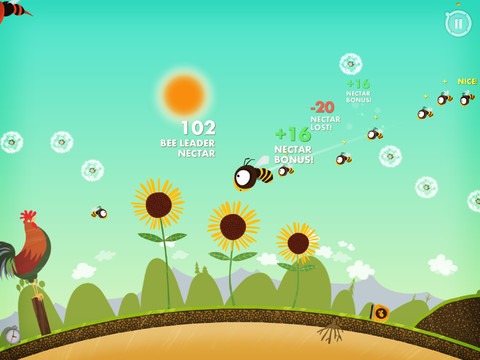 Today's Free App of the Day is a fun and challenging game free of violence or age-inappropriate themes. Bee Leader is interactive, customizable, and will keep your little ones busy (as a bee)!
iTunes Description:
Bee Leader – It's busy time!
The bees need you! Become a Bee Leader and help the bees fill their hives with honey.

*** App Store Best of 2012 – Wow!

*** Editors' Choice on New Zealand, Australian & Brazilian App Stores!
*** #1 iPad app & game in NZ & Australia!
*** New & Noteworthy and What's Hot in the US, NZ, Australia, Germany, China, Brazil and more!

* Touch Arcade 4.5 stars – "Bee Leader both surprises and delights from moment one."

* Modojo 4.5 stars – "Challenging, fun and readily-accessible title that ranks right up there with the best iPhone and iPad have to offer."

* The App Shack 4.5 stars – "Will definitely wind up being one of my favorite casual high-scoring arcade games of the year."

* iFanzine 4.5 stars – "A beautifully crafted game that oozes creativity and whimsical charm."

* Gamezebo 4 stars – "A game every iDevice owner should try. Like a honeycomb dripping honey, it oozes quality from nearly every facet."

* App Spy 4 stars – "It's certainly bee-lightful."

* TUAW – "Bee Leader is one of the most charming iPhone games I've come across in a long time."

* Touch Arcade – "trailer was absolutely amazing! iOS developers, take note!"
"Extremely simple concept taken to a level of perfection, almost like Tiny Wings meets Minecraft."
"Totally blown away, looks great on the new iPad, controls really well."

* Touch Arcade Forums – "PERFECT example of how an iOS game should be!"
"Incredible polish and great gameplay. Full recommendation."
"Controls are spot on! Graphics are incredible! Music is perfect!"

* AppCroc.com – "Surely going to blow you away with its amazing visuals and cute characters."

* Best10Apps.com, Editor's Pick – "Addictive and exciting with dazzling UI. You can't miss it."

Fly around the world and hover over flowers to collect nectar. Look out for enemies and bad weather! Collect as much nectar as you can before the sun sets. The faster you get nectar back to your hive the more honey you'll make! Pick up plenty of bonuses along the way – nectar, honey, time, and bee buddies. The more bee buddies you find, the more nectar you'll collect. More nectar means more honey – sweet!

To climb up the Bee Leader ranks fly through different worlds making honey – Just Desert, Country Life, City Heights, Island Time and London Fun. Each world has different obstacles, enemies, flowers, bonuses to break open and other fun interactive goodies. Some worlds are small, others are big, and there's a few surprises along the way.

Control your bee using your preferred method: joystick, touch or tilt. You can also remotely control Bee Leader using another iOS device via wifi or Bluetooth using Joypad, available free from the App Store. See http://getjoypad.com for more details.

Get busy!

Watch the trailers at;
Official Trailer – http://www.youtube.com/watch?v=2QhkhlnUv8A&hd=1
Gameplay Trailer – http://www.youtube.com/watch?v=a-6HqpeoZb0&hd=1

FEATURES:
– available for Mac & iOS
– beautiful design & illustration
– full HD/Retina support on iPhone, iPad & iPod touch
– 16 levels over 5 different worlds
– cool flight model & fun physics
– great interactive sound
– social networking & sharing support
– full remote control via wifi/Bluetooth using Joypad
– Game Center leaderboards & achievements
– pesky hornets

CREDITS:
Bee Leader
A Flightless Production
by Greg Harding, John O'Reilly and Ali Teo.
Copyright 2012 Flightless Ltd. All Rights Reserved.

http://www.facebook.com/beeleader
http://www.flightless.co.nz/beeleader
http://twitter.com/flightlessnz
beeleader@flightless.co.nz

Made using Cocos2d/Box2d/ObjectAL/Freesound/ShareKit/Joypad.
http://itunes.com/apps/joypad/joypadgamecontroller

OUR OTHER GAMES:
Top Dog: Farmyard Adventures
http://itunes.com/apps/flightless/topdogfarmyardadventures
http://www.flightless.co.nz/topdog

AnimalBlocks
http://itunes.com/apps/flightless/animalblocks
http://www.flightless.co.nz/animalblocks
*Free Kids App of the Day is on ongoing series on iPadKids where we hand select a free app to be featured every day. We can only guarantee that the app was free at the time of publishing, so get in quick so you don't miss out!