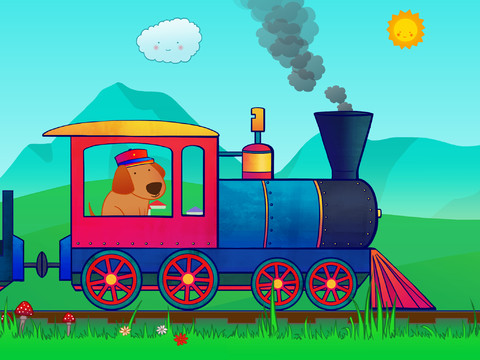 Animal Train For Toddlers is the perfect app to help your preschooler learn all about animals.
iTunes Description:
Animal Train for Toddlers is an animated game to help your kids (1-3 year olds) learn about animal sounds and have fun along the way. The game is fully interactive and designed to make sure your kids don't get lost in the app.

Download the app to follow the dog driver and his group of animal travellers on their journey. Let your kids tap on the different things they see – a cat, a horse, a wicked goose, a hungry goat, a sleeping cow. Or try touching the sun in the sky, clouds or other parts of the surroundings and see what happens.

All the animals are animated and make sounds, and the weather changes as your child gets involved with the changing environment.

The app comes with the steam locomotive and one coach included, and the rest of the coaches are available as an in-app purchase.

For more information about the app visit http://www.animaltrainapp.com. If you have any suggestions for improvement, have general feedback or just want to chat, drop us a line at app@animaltrainapp.com.
*Free Kids App of the Day is on ongoing series on iPadKids where we hand select a free app to be featured every day. We can only guarantee that the app was free at the time of publishing, so get in quick so you don't miss out!