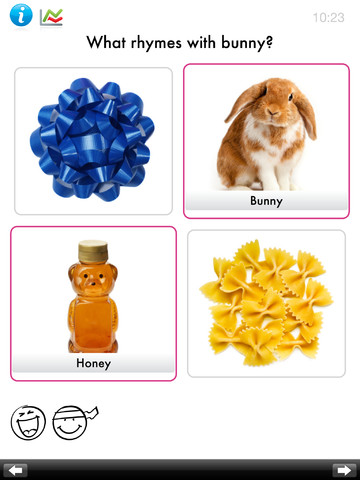 All mobile apps from Kindergarten.com will be free through April to honor Autism Awareness Month. That means it's time to stock up on some really great educational downloads, like Today's App of the Day – ABA What Rhymes?
iTunes Description:
In honor of Autism Awareness month, our apps will be FREE for the entire month of April …

Used by educators and speech language pathologists worldwide, our "What Rhymes" app is an indispensible part of any speech or language program. Rhyming is a basic component of phonics and important pre-reading skill that prepares young children for spelling and decoding words.

Visit us at www.kindergarten.com to learn more about ABA therapy and our apps …

"What Rhymes" offers 350 superb, concrete photos labeled against a non-distracting white background. Every image has been carefully selected for its familiarity, appeal to children and developmental value. We've added many new features and customizable settings that we hope will be helpful to teachers, parents and therapists.

Top features of our apps:

-Compatible with iPhone, iPod touch, iPad
-Over 350 colorful, concrete, labeled images
-Item selection allows you to choose your own targets
-Option to turn textual question ON or OFF
-Data tracking discretely keeps track of correct/incorrect answers
-Data recording you can email to parents, teachers, therapists
-Optional timer for fluency practice
-Option to shuffle pictures on subsequent attempts
-Option to turn audio ON or OFF
-Option to manually flip pages for discussion purposes
-Option to select various randomized reinforcement

At Kindergarten.com we are proud to provide a wide range of early childhood apps using techniques based on the principals of Applied Behavioral Analysis (ABA), using a Verbal Behavior (VB) approach. ABA has been scientifically proven to be highly effective in teaching both typically developing children as well as those with special needs such as Autism, Asperger's, ADD, ADHD, Down Syndrome, Dyslexia, Dyspraxia, Apraxia, Auditory Processing Disorder, PDD-NOS, Hearing Loss, Speech and Language Delays, as well as Traumatic and Acquired Brain Injuries.

To view our portfolio of ABA apps please visit us at www.kindergarten.com.
*Free Kids App of the Day is on ongoing series on iPadKids where we hand select a free app to be featured every day. We can only guarantee that the app was free at the time of publishing, so get in quick so you don't miss out!