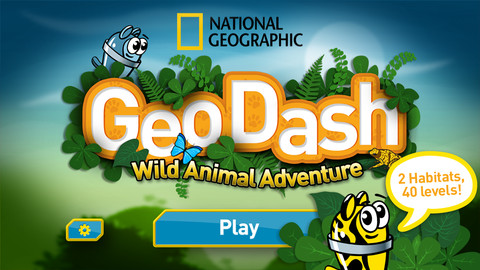 Our Free App of the Day* is from National Geographic, so you know it's jam-packed with cool facts.  GeoDash: Wild Animal Adventure is fun and full of animal action, and the best part is your little one will learn while playing.
iTunes Description:
Geo is on a mission and he needs your help! Join the curious robot as he explores Earth's habitats, earning awesome animal abilities along the way. You'll be able to leap like a poison frog, dig like an armadillo, climb like a baboon—even run like a cheetah! Every time you get a new ability, Geo gets a new look. As you explore, you'll collect animal cards with pictures, cool facts, funny jokes, and really weird trivia.

EXPLORE EACH LEVEL
Guide Geo through each level of the habitats—the African Savannah and Amazon Rain Forest to start—and encounter ability tokens, animal cards, bonus fruit, and the key to the next level!

GET ANIMAL ABILITIES
See a spinning animal token? Grab it and you'll unlock a new skill, like jumping, digging, charging, and climbing.

MASTER THE GAME
Grab hidden fruit in each level to get more stars!

BUILD YOUR CARD COLLECTION
When you and Geo discover a new animal, you get a new animal card! Each one has a picture, fast facts, goofy jokes, and weird trivia. Want to know what animal can carry 50 times its own weight? You'll have to play to find out!

GeoDash: Wild Animal Adventure is inspired the National Geographic Animal Encyclopedia, a book packed with animal stats, photos, fun facts, and lots more.
*Free Kids App of the Day is on ongoing series on iPadKids where we hand select a free app to be featured every day. We can only guarantee that the app was free at the time of publishing, so get in quick so you don't miss out!