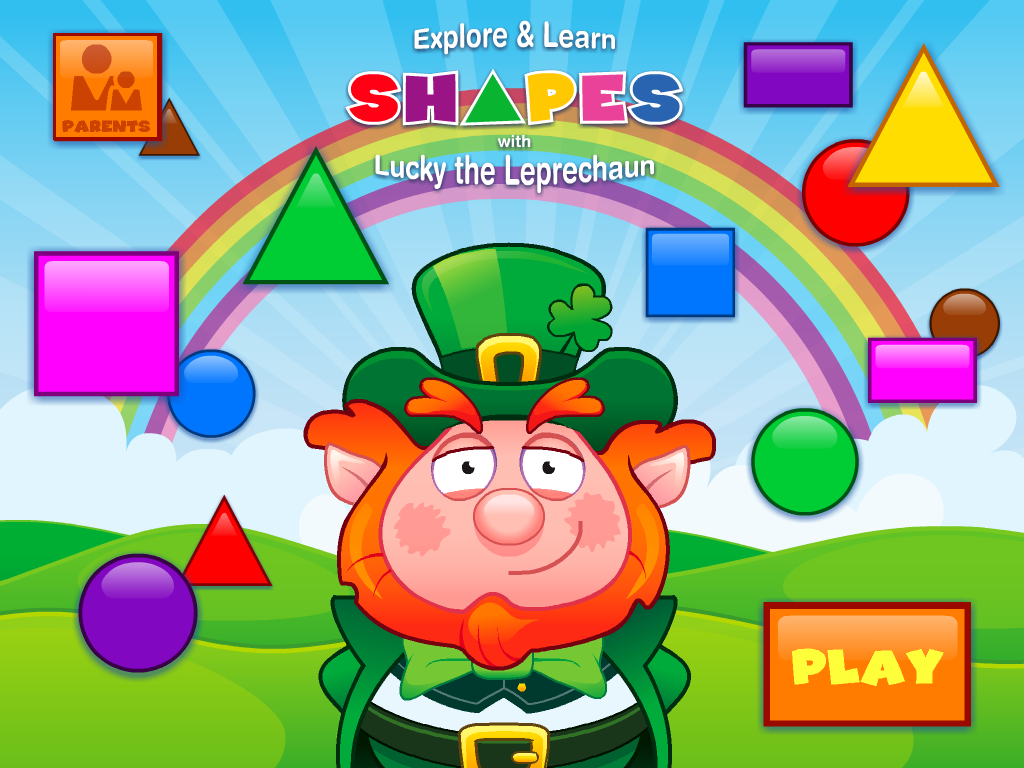 At the risk of outing myself as a pushover of a parent, I have to admit that my kids love Lucky Charms.  Of course it's not the healthiest cereal, but as long as they don't pick out the marshmallows and sneak the oat bits to the dogs, I don't mind giving it to them as an occasional treat.  To make myself feel better I ask them to count the number of stars or rainbows in their bowl, and chalk up breakfast to being a learning experience.
Explore And Learn Shapes is like a bowl of Lucky Charms for your iPad, without the high fructose corn syrup.  Lucky the (aptly named) Leprechaun is a gracious and jovial guide through a rainbow-hued land of shapes and colors, leading the way through eight different mini-games.  Lucky asks players to identify different shapes, colors, sizes, and amounts, and each correct answer earns a golden coin to be added to the pot.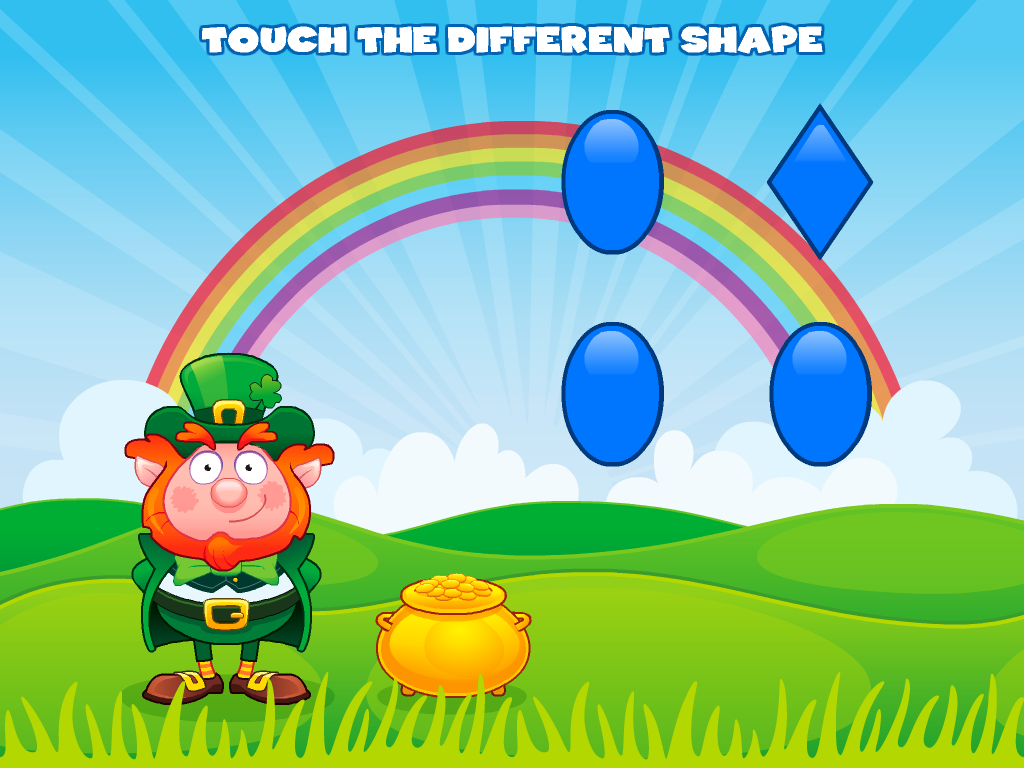 So what makes shape recognition so important in early childhood learning?  The developers at Mediakitchen know that pre-reading starts by the connection of a letter or a word to its basic shape.  Children begin to recognize the letter "A", for example, by relating it to a triangle, and the same applies to learning numbers.  This intrinsic comprehension then bleeds into the world of writing and early math skills.
As an added bonus Explore & Learn Shapes offers parents a chance to tailor the game to their own child's skill levels.  In the settings of the app the topics can be customized by choosing specific colors or shapes only, eliminating more confusing or well-known items.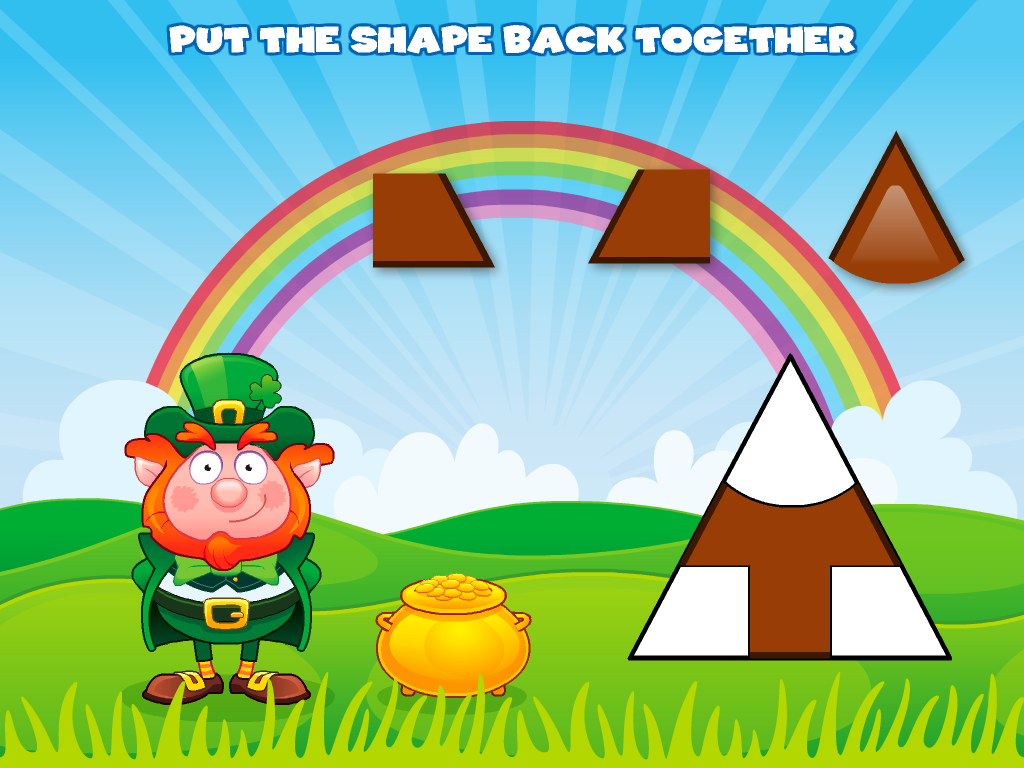 While my 2-year-old is quite adept at calling out shapes she is having a harder time differentiating between her colors, so I set the game to play more color recognition games.  My 5-year-old is great with his colors but the more complicated shapes (rhombus, anyone?) trip him up.  When it was his turn to take the game for a spin I re-set it to focus more on shapes.
Mediakitchen has really done their homework with Explore & Learn Shapes.  Not only does it address the integral foundation for early childhood learning, but game play is fun, vibrant, and easy.  If that wasn't enough the narration is available in 15 language modes including Turkish, Czech, and Korean, which makes it ideal for second-language learning.  Customization and rewards for a job well done make this a comprehensive preschool app, and at $0.99 you don't have to give up a lot of gold at the end of your rainbow.
Details:
– Eight different games
– Universal App – works on your iPhone, iPod Touch and iPad
– No In-App Purchases
– No Advertisements
– No confusing menus or navigation
– Tested by babies and toddlers
– Several different language modes
Pros:
– Vibrant colors and playful music create a fun learning environment
– Repetition helps to reinforce shape and color recognition
– Completely customizable "parent" panel
Cons:
– None; this app is an adorable and cheery way to learn

Price: $0.99
Age: 2-5
Your kiddo will be the lucky one with this brilliant game.
Please help support iPadKids by downloading the game via the App Store icon below!