It's that time of year again! Those of us that practice the Elf On The Shelf tradition pull out the box when our kids aren't around and hide the little elf around the house so that he can "watch" the children being naughty or nice and the kids can race around the house to find his hiding place. Then the next day he 'moves' again!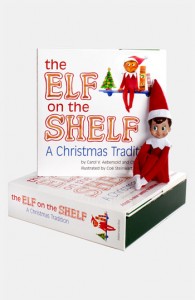 If your kids are like mine, they can't get enough of the Elf and his antics. Everyone can't wait until he moves again, so they can run find him!  So, naturally, I was excited to find that the Elf On The Shelf company just released a free app called 'Find the Elves'. It's the perfect elf activity to keep their excitement going until their elf does what he does best!
This Elf-finding game is based on speed and agility! When the head elf shouts "GO!", tiny elves appear all over a large, decorated Christmas tree only to disappear again if your kids don't tap them fast enough (Hurry! Only 30 seconds!). The higher the level reached, the faster the elves appear and hide again. This whack-a-mole style game is fun for all ages (trust me, I know) and easily turns into a competitive event for the whole family.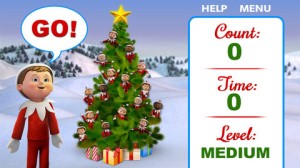 There is a helpful toolbar to the right of the in-game screen that keeps track of the elves that have been found, how much time remains in the game, and the level of difficulty that is being played. It is especially helpful when you need to disprove your husband (or child) who swears he found more elves than you did.
The Elf on the Shelf's adorable and challenging new 'Find the Elves' game is now available for download via the iTunes app store for free! This app is available for both iPad and iPhone.

Source: http://www.elfontheshelf.com/
Image Source: https://itunes.apple.com/us/app/find-elves-elf-on-shelf-christmas/id572754137?mt=8