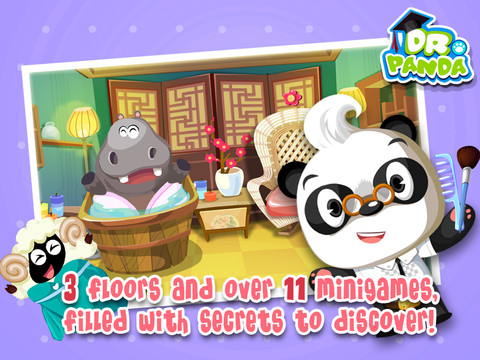 I was convinced that my daughter, now 3, was a boy – even up until the day she was born.  There was no way that I was going to "do" tea parties, painted fingernails, and fancy hair bows.  Instead my girl was only going to wear overalls and have permanent dirt stains on her knees.  Well, the joke's on me because she refuses to wear anything but dresses, her favorite color is pink, and she makes a bad habit of "testing" my makeup.
For girly-girls like mine, Dr. Panda's Beauty Salon is a great alternative to giving a preschooler a bottle of nail polish.  This app from TribePlay is like a virtual spa day for animals, which not only saves parents from a huge mess but also teaches creative thinking and imaginative play.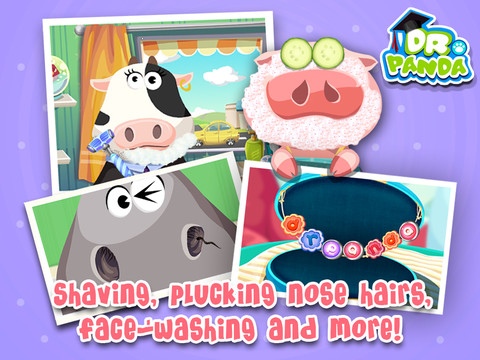 The game begins on the first floor of the beauty salon where Dr. Panda greets his animal clients in much need of some pampering.  From there the can move to one of the other two floors where they share which service they'll need.  There are 11 different mini-games that will make the animals happy; from manicures with sparkly gems to yogurt-and-fruit face masks.  Players can even pluck nose hairs.  Yeah, you read that right.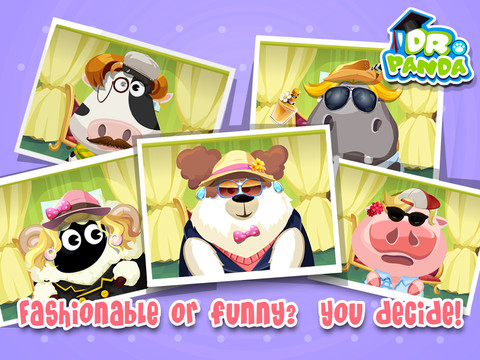 As you may suspect, my daughter has found her new favorite app.  She particularly enjoyed using "makeup" to paint the animal's faces to create glow-in-the-dark designs that light up under the flash of a disco ball.  Her little fingers could easily maneuver through the app, and I liked the fact that she could use it independently without having to ask my help with reading directions or getting to the next "level".
Priced at $2.99, Dr. Panda's Beauty Salon is well worth the download.  It's definitely All Star worthy – the app is easy to navigate, it's fun to play, and it's really perfect for all ages.   And if you've ever had to get nail polish out of your girly-girl's hair, you'll rest easy knowing that this app won't leave a sparkly lacquered finish on your brand new carpet.
Pros:
– Kiddos don't have to read to enjoy beautifying a cast of funny animals
– User interface is easy enough for even a toddler, but fun for all ages
– Open-ended play without ads, time limits, or point scores
Cons:
– None; we loved making these beasts beautiful

Price: $2.99
Age: 2+
Relax – this app is like a virtual spa day on the iPad!
Please help support iPadKids by downloading the game via the App Store icon below!