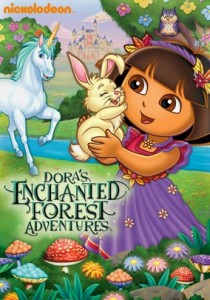 Dora and her bilingual bunch of animated friends tell a story of how their new friend King Unicornio can prove his worth.
Price: $3.99
Age: 3+
Players can either read the story themselves or have it narrated so no reading skills are required.

Pros:
– Narration includes words in Spanish and their definitions in English
– Full narration also available in Spanish, French, and Italian
– High level of interactivity within both story and sticker modes

Cons:
– The story mode itself is quite long – 25 pages – and takes some time to load between chapters
I can almost guarantee that if you were to make a formal list of top iconic cartoon characters of the last 20 years, Dora the Explorer would be in the top five.  The animated show has garnered a cult following since its inception in 2000 and if you have a child under the age of 10 then I'm sure you know all about Dora, Boots, the Map, and Backpack.  In fact you probably know the songs by heart and you catch yourself singing "I'm the MAAAP!" as you go about your daily routine.  Or maybe it's just me…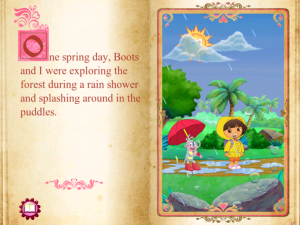 Dora's Enchanted Forest Adventures is an interactive storybook app based on an animated movie by the same name.  It tells a story of Dora's newly found friend Unicornio and his journey to earn badges and prove himself to be worthy of the title of King of the Forest.  He must earn badges to represent his acts of kindness, bravery, intelligence, and strength before he can wear the crown.
The story is narrated by Dora with Spanish words peppered in, and she explains the meanings so that even the youngest players can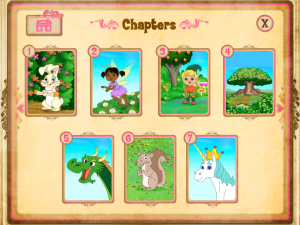 understand.  Corresponding pictures feature interactive animations indicated by purple swirls that are tapped, and the pages are turned by simple swipes.  There are a total of 25 pages separated into 7 chapters, and while the story itself is simple and easy to follow, I felt that it was too long for me and I lost interest by Chapter 2.  My two-year-old doesn't even bother reading the story when she plays the app as she too lost interest waiting for the chapters to load.  Aside from that minor glitch, I found it nice that I had the ability to choose to skip chapters or continue the story where it left off when the app was closed.
Sticker mode is also interactive but is much more open-ended than the story.  It displays scenes from the story with white shapes where there should be important pieces of the fairytale and tapping them makes the characters appear, and include animation or sound effects.  This section was much easier for the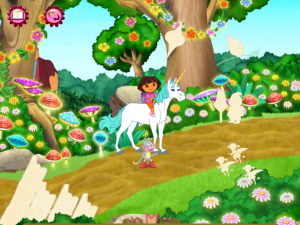 younger players as it eliminates any frustration from waiting.  The payoff was instant and the concept was easy enough for my little one to quickly master.
If you are in the market for basic interactive storybooks, there are plenty that are cheaper and even free.  However this app is a must-have for that Dora superfan in your house, especially if they are learning to read, but at $3.99 it's a little expensive to download on a whim.