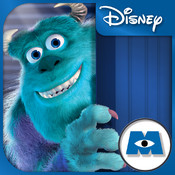 Pixar favorite, Monsters Inc., is hot off the Disney press in storybook form! Join Mike and Sully, the lovable scream-energy collecting monsters, on an exciting and interactive adventure through Monstropolis. True to the original movie storyline, they embark on a quest to return Boo to her home. As with all of Disney's storybook apps, 'Monsters Inc. Storybook Deluxe' not only delivers an interactive story that shadows your child favorite movie, it also includes a ton of additional features to maximize fun!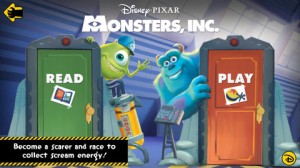 Hidden Scare Cards- Throughout the story, kids can look for clues that will lead them to hidden 'scare cards'. These scare cards can be collected and contain pictures of all of your child's favorite Monsters Inc. monsters as well as all of their scaring stats!
Animated Clips- Children can use the sliding doors on the pages of the story to access familiar animated clips from the actual Monsters Inc. movie that will enhance storytelling and make the book really come to life.
Mini-Game– 'Monsters Inc. Storybook Deluxe' also includes an insanely fun mini-game that allows kids to navigate their way through the Monsters Inc. scare simulator training room to try and collect scream-energy from the simulator kid!
Screams– There are also fun, personalized features that are based on your child's own roaring and screaming abilities. Don't forget your earplugs! No, really…don't.
Remaining true to the original Monsters Inc. movie, the 'Monsters Inc. Storybook Deluxe' app also includes silly sound effects and music from the film soundtrack. This, coupled with the original storyline, makes Disney's latest app a great way to introduce your children to an old favorite in a new and exciting way.
'Monsters Inc. Storybook Deluxe' is available for download here for $4.99. This app is designed for both iPhone/iTouch and iPad platforms.