Disney has just taken their traditional storybook apps to a whole new level and I could not be more excited if I tried. As you already know, children rarely just want to casually read a book on their iPad. They want to get in there and interact. They want to hear sound effects, color scenes from the story, and make the tale come to life in a way that a traditional book cannot support. Now, just this week, Disney has kicked it up a notch and released their brand new 'Disney Princess: Story Theater' app.
'Disney Princess: Story Theater' takes the premise of reading a story and turns it upside down. In this app, children won't be simply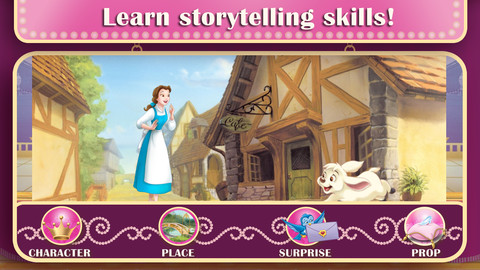 interacting with an already-existing storyline; they will be creating the storyline themselves. What a great way to spark creativity! Kids will get the chance to use various characters (princesses, of course!), backgrounds, and props to create their own unique Disney story.
Props and characters can be rotated and re-sized to create a more lifelike setting. Children can even hone their storytelling skills by recording their own voice for the narration of their stories. Beautiful art and magical sound effects make children's creations even more lifelike. All of these features culminate to provide an amazing story creation experience that promotes early literacy skills.
The ' Disney Princess: Story Theater' app also features a multi-touch capability that allows multiple actions to take place on the screen at once. This is a great feature for parents who want to jump in and create with their children. Both the child and the parent's hands can touch and tap the screen at the same time, eliminating the sometimes frustrating 'taking turns' issue that comes with many iPad apps.
'Disney Princes: Story Theater' is available for download via the Apple iTunes App Store button below for $2.99.