There's something about a camera that gets children excited, especially if they can take pictures of themselves. In fact, I recently found about 40 nearly identical selfies on my iPhone camera roll that my five year old had taken of herself when I wasn't looking. But what if your kids didn't have to stop at simply snapping a picture and filling up your camera roll? Disney Channel Photo Finish is a brand new app, released on May 30th,  that allows children to take a photo within the app and creatively edit it with lots of exciting tools and stickers.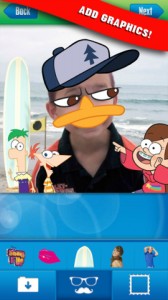 After taking a photo of themselves, the dog, their lunch, your feet, or whatever else they can find, your child can use Disney Channel Photo Finish to edit and decorate their photographs! The app sports several fun features including:
Children may snap a new picture of use one already present on the device
Pinch and widen fingers to adjust and crop photos
Add fun stickers of your favorite Disney Channel characters (Phineas and Ferb, anyone?)
Rotate, flip and re-size stickers with a tap of the screen
Use fun frames to personalize photos
Apply filters to make photos black and white, sepia, and more!
Kids can share their photos via text, email and more
Disney Channel Photo Finish is a free download that is based on the 'freemium' model. While the app comes with a "starter pack" of stickers, parents can purchase other sticker packs to expand their child's collection. Extra sticker packs include characters from Disney Channel Shows such as Teen Beach Movie, Shake It Up, Gravity Falls and Phineas and Ferb.
If your child is a fan of Disney Channel shows and would love to decorate their very own Disney-themed photographs, click the Apple iTunes App Store button below to download the Disney Channel Photo Finish app for free.