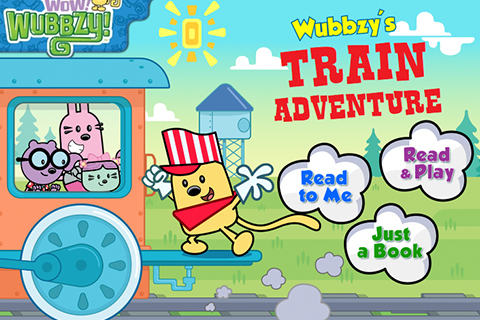 What child doesn't just love Nick Jr.'s 'Wow! Wow! Wubbzy!'? And…what parent hasn't found themselves completely alone and humming that catchy 'Wow! Wow! Wubbzy!' theme song? Well, Cupcake Digital has made it possible to get a little more Wubbzy in your life! 

Wubbzy's Train Adventure is the newest interactive storybook app released by Cupcake Digital this month. In this exciting story, Wubbzy and friends are riding on the Wuzzleburg Express, bound for the Kooky  Karnival. Suddenly, when the train breaks down,  Wubbzy must overcome many outlandish and fun obstacles. Will he get the Wuzzleburg Express back on track before the Kooky Karnival closes? Check out this fun storybook app to find out!
Wubbzy's Train Adventure interactive storybook app has three different modes of play:
Read to Me-  In this mode, a narrator reads the story to your child. While being read to, they can tap and interact on each page of the story.
Read and Play- In Read and Play mode, a parent can read the story to the child (or an older child can read it to themselves)  and the child can interact and play on each page of the story.
Just a Book- Just a Book mode turns off all sound and interaction, making Wubbzy's Train Adventure into an old fashioned storybook that is perfect for bedtime or places where sound might be inappropriate .
When your child tires of reading or being read to, Wubbzy's Train Adventure app also offers other  exciting features.
Mini Games- This app offers two fun mini-games, 'Track Build-up' and 'Kooky Karnival Fun'.
Sing-Along Music Videos-  The app also includes three fun music videos for your child to sing and dance to!
Coloring- As an added bonus, Wubbzy's Train Adventure also includes coloring pages that feature characters from the story. These characters can be tapped and colored, coloring-book style.
Check out Cupcake Digital's 'Wubbzy's Train Adventure' app screen cast here!
The 'Wubbzy's Train Adventure' app can be downloaded via the iTunes app store for $1.99 and is available for both iPhone/iTouch and iPad. 
Image Source: http://www.cupcakedigital.com/apps/wubbzys-train-adventure/