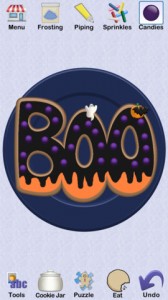 You can almost smell the cookies baking in the oven with this virtual cookie-maker!
Price: $0.99
Age: 4+
Players should know the basic steps of baking cookies to enjoy the game.
Pros:
– Plenty of choices to help individualize the cookie making process
– Easy, straight-forward game play
– No ads or in-app purchases

Cons:
– Generally speaking, this is what I would consider a "niche" game for those who really like to flex their creative muscle
Since having my kids, there have bee some really obscure skills that I have fine-tuned to almost perfection.  Skills that include climbing over two car seats in the back to get to the driver's seat (don't ask), analyzing every single noise my children make when they are out of sight but not out of hearing range, and of course, making cookies from scratch.  I have even memorized the exact recipe for several varieties of cookies.  However, actually finishing a batch of cookies with two small helpers is much harder than I ever imagined, and the very mention of baking cookies with Mommy sends a cold chill down my spine.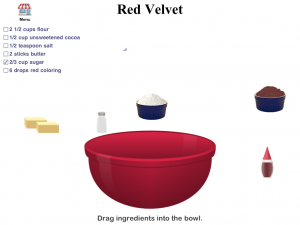 Along with the existence of store-bought cookie dough, the Cookie Doodle app has saved me several hours of clean-up time.  This is as close as my kids will get to making cookies for a long time considering what happened the last time we tried to bake (don't ask).  Fortunately the developers at Cookie Doodle have created endless possibilities for customization that even the Keebler Elves would want to play this game.
I started by choosing the dough for my cookies from either pre-mixed dough or a recipe with ingredients that I could mix together myself.  I cut the butter into the bowl, sifted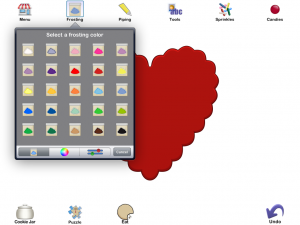 the flour, shook the salt shaker, and so on, until it was time to stir up the ingredients and roll out the dough.  When I chose instant dough I skipped straight to the rolling-out step and it wasn't nearly as gratifying as it was to make the dough from scratch.
Once the dough was rolled out I could choose from 203 basic and seasonal shapes ranging from a simple circle to a detailed Christmas tree, and the cookie was baked to perfection in an adorable retro oven.  I then had decorative choices galore of frosting, piping, sprinkles, and candies, for which I could either choose a pre-set color or use the color wheel for a customized hue.  A photo from my iPad's roll could also be applied to the cookie.  After spending hours making The Perfect Cookie, I excitedly "ate" it, but I could also save a photo and share via e-mail or turn it into a puzzle.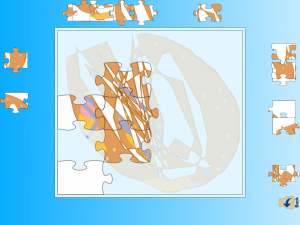 For kiddos who love to make everything their own by choosing every little detail, Cookie Doodle is a perfect way to express their creativity and show it off.  While there are no points or levels or time limits, each cookie made garners a treasure after being eaten.  Players who enjoy the payoff of beating a personal time record or collecting more stars than Player 2 won't find this app to be interesting.  For the download price for $0.99 this game is worth its weight in pennies for the hours of artistic freedom it allows to the right players.  It also saves you from having to open a bag of flour, which incidentally makes a wonderful craft paste (don't ask).
Details:
– 203 Cookie Cutters
– 24 Make your own cookie dough recipes
– 21 Instant cookie dough flavors
– Photo cookie dough
– 60 different sprinkles
– 85 candy toppings