Award-winning App developer, FDG Entertainment, has just released 'Color the Cartoon: Farm' as their first App directed at a juvenile audience. 
FDG Entertainment is known for their 2009 Pocket Gamer Top 50 iPhone Developer Award and also a wide variety of games that are marketed toward adults, such as: 'Slide Circus', 'Chicken Raid', and 'Tentacle wars'. Now, FDG is venturing into a brave new world with the release of their newest App, 'Color the Cartoon: Farm', under an emerging label called "FDG Kids".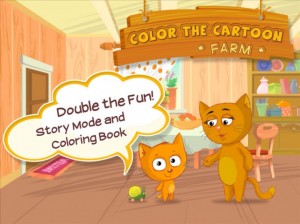 Directed at a very young audience, 'Color the Cartoon: Farm' allows children to interact inside a delightful and beautifully animated storybook setting. The main character, a fuzzy and orange kitten, wanders through a rural farm setting while discovering lots of new animal friends along the way. As each of these new characters is discovered, the player is prompted to color them, coloring book style, by tapping the screen. As an added extra, there are surprises and hidden objects placed throughout the farm-like setting just waiting  to be found and explored.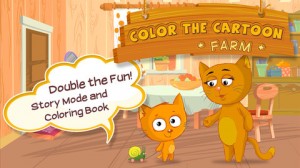 FDG touts their own achievement in the children's App arena by saying: "We're happy to announce "Color the Cartoon', our first kid's game to be released under the new label "FDG Kids". Its another milestone in our efforts to deliver high quality family entertainment for all ages.  Please expect further games to be released under this new label, soon."
The much-praised App developer has also raised the bar with an added benefit for global users; 'Color the Cartoon: Farm' features exciting silly sounds and beautiful, clear narration not only in English, but also German, French, Spanish and Italian.
An in-game sample video of 'Color the Cartoon:Farm' can be viewed here.
'Color the Cartoon: Farm' is available for download for $2.99 through the iTunes App store. This App is available for iPhone, iPad, and iPod Touch. Compatible with iOS 4.3 or later.