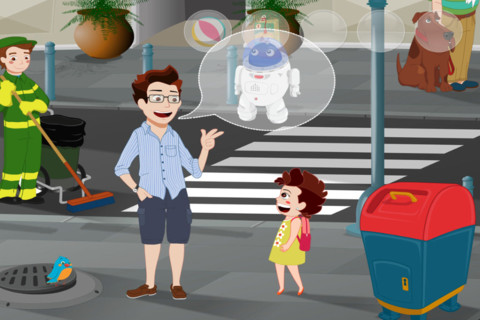 Headed to the big city with your little one? Download our Free App of the Day called Clara City, which teaches kiddos how to safely navigate through a city environment.
iTunes Description:
★★★ Acquire the skills and behaviors needed to move around the city safely.
★★★ Learn the correct way to cross the street and respect traffic lights.
★★★ Instructions for parents available in: English, Spanish, Arabic, Portuguese, French, German, Chinese, Japanese, Korean, Russian and Hindi.
★★★ Identify different items used in everyday life.
★★★ Educate ourselves in personal hygiene habits like washing our hands.
★★★ Practice basic knowledge about shapes and colors and more advanced knowledge like science experiments…

Clara and her sisters are back with a new and exciting adventure in the city: http://goo.gl/qn40p

This time, dad has asked us to find a series of objects that we'll have to add to our backpack. For this, we need to:

Explore!
Go over the city streets searching for the objects that dad has asked for. The pharmacy, the park and the music store are just some of the more than 24 scenarios we may visit.

Discover!
Be aware of the dozens of interactive objects, games and surprises we´ll find along the way.

What's Inside:
✓ 400 and more different possible game sessions.
✓ 26 scenarios to explore.
✓ 10 different interactive games.
✓ 8 frequent places of the city: science museum, pharmacy, dance school, music shop, …
✓ 5 different objects to search in each session.
✓ 3 lovable characters to choose from: Clara, Marta and Berta.

Game features
✓ Suitable for children aged 2 to 6.
✓ Each scene contains hidden games and surprises.
✓ New objects and scenes that make each game unique.
✓ Offers positive reinforcement, encouraging children to keep on playing.
✓ No time limits or strict rules to follow.
✓ No third-party advertising.
✓ No in-app purchases.

Join Clara and her sisters in this new adventure!

Contact us!
We are available 24/7 to answer your enquiries, comments and help you with technical issues: info@canovia.com

Recommended for new generation devices and latest iOS versions. If the app doesn't run properly on your device, please contact us specifying the iOS version and device model and we will work on it in our upcoming updates.
*Free Kids App of the Day is on ongoing series on iPadKids where we hand select a free app to be featured every day. We can only guarantee that the app was free at the time of publishing, so get in quick so you don't miss out!