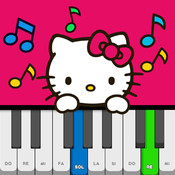 Hello Kitty has become all the rage lately! Little girls love her and it is now possible to buy Hello Kitty everything (think clothes, lunchboxes, jewelry, toys, etc…). There are, of course, a ton of Hello Kitty apps on the iTunes App Store, but many of them are unlicensed and just not worth the time, due to heavy advertisements and in-app purchases. However, if you are able to find a licensed Hello Kitty app game, odds are, you will not be disappointed!
'Hello Kitty Music Piano Play-Along Deluxe' is a recently released app that is officially licensed and developed by Castle Builders, a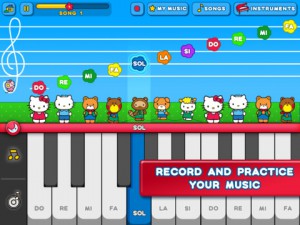 popular and reliable children's app developer. The idea of the app is simple: Sanrio's adorable and wildly popular Hello Kitty stars in a fun game that will get your children's creative juices flowing and have them making simple, albeit beautiful, music in no time at all!
'Hello Kitty Music Piano Play-Along Deluxe' is based on composer's Dorly Oren-Chazon patented music learning method for kids and is ideal for 'by ear' training for children of all ages. All recorded music on the app is performed by premier musicians in a professional studio setting.
Children will learn to play songs in just four easy steps, all while interacting with Hello Kitty. First, kids are asked to choose the instrument of their preference (guitar, piano, drums…). Then, they are asked to choose a speed-level, such as slow for beginners or fast for advanced. Then, the player simply follows along on the marked keyboard and suddenly, they are playing songs! There is also a record feature that allows the user to record his or her songs so that they can be played back for friends or family.
The 'Hello Kitty Music Piano Play-Along Deluxe' app is available for download via the Apple iTunes App Store button below for $2.99. This app is available for both iPhone and iPad.