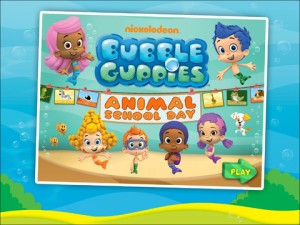 My kids ask me all the time if they can bring one of our three dogs into preschool for show and tell.  The answer is always no, mainly because our dogs are only slightly better behaved than wild monkeys.  So they have to settle for bringing their Care Bears and toy trains, which are monumentally less exciting than a real pet.
Bubble Guppies: Animal School Day is like a dream come true, and doesn't help my case when arguing the advantages of presenting a 100-pound yellow lab to a classroom of giddy two-year-olds.  The app is very fun while being chock full of animal facts and educational tidbits.  Based on the animated television show by the same name ("Bubble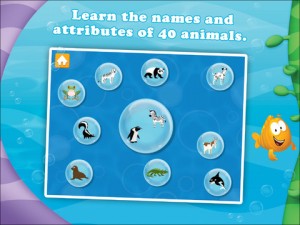 Guppies"), the classroom setting helps prepare preschoolers for "real" school while introducing new concepts about the animal world.
There are four different mini-games to help teach players about 40 different animals.  Circle Time points out defining characteristics of different species, Field Trip shows us where different animals live, and Treat Shop explains the different ways and things that animals eat.  The fourth game – Lunch Time – is all about what we humans eat, and features a popular song from the television show.  "What time is it?", the fish teacher asks.  "It's LUNCHTIME!", the fish kids yell.  After hearing that, my two-year-old walked around mumbling to herself, "Mmm, I looove lunchtime!"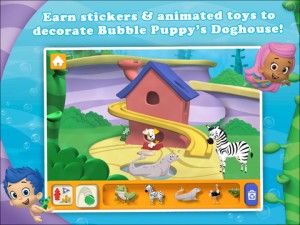 The app is easy to navigate, the educational aspect is clearly presented and age-appropriate.  Both kids enjoyed playing the games and could do so quite independently.  However, Nickelodeon tends to overprice their apps and Animal School Day seems to continue that trend.  Personally I think the $4.99 price tag is a little steep, even as a gift for the most ardent of Bubble Guppies fans.
Pros:
– Darling characters and silly sound effects
– Based on a professionally developed teaching methodology
– Different profile settings means multi-kid fun

Cons:
– This app is certainly not cheap!

Price: $4.99
Age: 2-6
No reading required; this app is perfect for the young fans of the animated television show
Please help support iPadKids by downloading the game via the App Store icon below!