Best Free Kids App of the Day is on ongoing series on iPadKids where we hand select a free app to be featured every day. We can only guarantee that the app was free at the time of publishing, so get in quick so you don't miss out!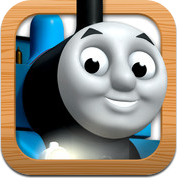 I don't know about you, but when I was a kid, I was addicted to Thomas the Tank Engine. Addicted! While popularity may have waned slightly from it's glory years, the franchise is still very much alive and kicking in the form of various iPad apps. Today we're featuring Thomas & Friends: Engine Activities, which is free in the App Store for a limited time only. The app features various activities, including puzzles which become animated clips after completion, a card matching game and coloring activities.
This app does contain in-app purchases, so be sure to disable them to avoid any inadvertent purchases.
Get your copy now!
From iTunes:
Tap into the fun of Thomas & Friends with this interactive activity app! Little engineers will be entertained for hours as they play with come-alive puzzles, creativity-boosting coloring pages, and brain-building matching games. Extend the play even further by purchasing additional packs with new puzzles, coloring pages, and collectible match cards. With so much to do, Thomas & Friends: Engine Activities guarantees an endless supply of fun and adventure!

This app includes:

-3 coloring sheets, 3 animated puzzles, and 3 collectible engine cards inspired by Pop Goes Thomas
-3 coloring sheets, 3 animated puzzles, and 3 collectible engine cards inspired by Creaky Cranky
-A matching game that draws from your child's card collection and helps develop memory skills and hand-eye coordination

Additional activity packs include fan favorites Wobbly Wheels & Whistles, Merry Winter Wish, Rescue on the Rails, Curious Cargo, and Up, Up and Away—each with even more puzzles, coloring pages, and match cards based on these beloved DVDs and characters. Watch for new activity packs available for in-app purchase.

NOTE: You can disable in-app purchases by tapping the Restrictions area of Settings on your device.
Please help support iPadKids by downloading the game via the AppStore icon below!