Best Free Kids App of the Day is on ongoing series on iPadKids where we hand select a free app to be featured every day. We can only guarantee that the app was free at the time of publishing, so get in quick so you don't miss out!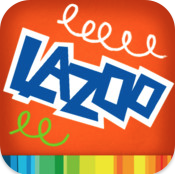 Brought to you by Lazoo, Squiggles! is an educational iPad drawing app that is sure to stimulate your child's imagination. The app features 14 unique drawing pages which act as canvas for drawing squiggles. Once your child has squiggled on a canvas, it then comes to life in the form of animated cars, fish, birds, and all sorts of fun things.
It's highly entertaining for the young ones, and the quality of the artwork is excellent. There are no in-app purchases or third-party advertising. Squiggles! is such a great app it almost too good to be free!
iTunes description:
"This app has a huge 'Wow' factor, as it encourages little ones to try new things … If you have a preschooler, don't miss this one." — USA TODAY- 4 Stars (out of 4)

Pictures come to life with "Squiggles!", a revolutionary new educational drawing app for young children.

A child's simple hand-drawn squiggle can become a bird's nest, rocket smoke, cotton candy, sheep's wool, a curly beard, and more! Simply squiggle away to complete Lazoo's internationally award-winning art. Then hit the GO button and watch drawings soar, pulsate, move, twirl, and multiply.

Save your child's creations in the app, then upload them to Lazoo's secure digital treasure chest or email them to family and friends!

Includes an amazing interactive storybook and animated short featuring Lazoo's adorable characters, Bobu and Miku, who model creative thinking and encourage children to use their imaginations and "color outside the lines."

Features:
• 14 unique "living" drawing pages
• Drawing palette including stickering, chalk, mystery color, ketchup tool, and more
• Gallery for saved pictures
• Sharing features including email, facebook, twitter, Lazoo community, and printing capabilities
• Interactive storybook
• Animated short with Bobu and Miku

Education:
"Squiggles!" is based on Lazoo's "Hands On! Mind On!" curriculum, developed in conjunction with top educational experts. Lazoo apps are designed to:

• build divergent thinking skills
• foster problem solving skills including implementing, evaluating, communicating, and revising creative ideas
• assist a child in becoming comfortable with uncertainty
• encourage a resilient approach to play and creative problem solving so that a child learns persistence
• support the kind of appropriate risk-taking in play and thinking that inspires creativity
• encourage an interest in, and openness to, emotion in both play and thinking
Please help support iPadKids by downloading the app using the link below!