Best Free Kids App of the Day is on ongoing series on iPadKids where we hand select a free app to be featured every day. We can only guarantee that the app was free at the time of publishing, so get in quick so you don't miss out!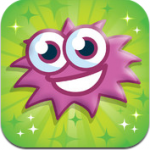 Another sensational Moshi Monsters game, Moshi Monsters: Moshlings, has come to the iPad, and is completely free for a limited time only. If you're not already clued into Moshi Monsters (if that's even possible), the online version already has 65 million users worldwide. Targeted at boys and girls, aged 6-10, the game allows your child to adopt and customize a virtual pet monster, then use their monster to navigate a virtual world by playing games and solving problems.
Moshi Monsters is developed by the UK-based entertainment company, Mind Candy.
From iTunes:
Mad about Moshlings? With this Moshling-packed app you can read all about the wacky little critters, find out how to get your mitts on 'em and even customise 'em!

With over 60 madcap Moshlings and 100 stickers, personalising and creating your own unique characters is easy. You can even take a snapshot of your modified Moshling and show it off to friends and family. Moshling-tastic!

Moshlings are itty-bitty pets that Moshi Monsters love collecting. There are loads of different species, all with their own kooky characteristics.

FEATURES
* Over 60 Moshlings
* Essential Moshling info – read about their personalities, habitats and much more
* Moshling secret codes – so you can catch 'em at MoshiMonsters.com
* 100 stickers to customise your Moshlings
* Bring out your inner artist by scaling and rotating stickers
* Save your artwork at the touch of a button
* Create fangtastic wallpapers for your mobile gizmo
* More Moshlings on the way

A must-have for any Moshling maniac!
Please help support iPadKids by downloading the game via the AppStore icon below!