Best Free Kids App of the Day is on ongoing series on iPadKids where we hand select a free app to be featured every day. We can only guarantee that the app was free at the time of publishing, so get in quick so you don't miss out!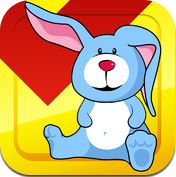 Just to be clear, you only get the first topic in this app for free. There are 10 topics in total (check the iTunes description below), which are accessible via in-app purchases.
Regardless, if you are trying to give your child a great start in maths, this is a top quality app. It puts a fun spin on learning maths for your young ones — giving them that extra boost to put them ahead of the class!
Maths, 3-5 iTunes description:
A set of ten topics for the foundation stage of primary school. Engaging and fun, they are designed to give children a great start in maths. Try Topic 1 for free!

The ten topics:
1 Sorting and matching (yours for free)
2 Counting to 3
3 Lines and patterns
4 Counting 4 to 6
5 Where is it?
6 Counting 7 to 10
7 Patterns and shapes
8 Counting 1 to 10
9 Comparing
10 Add and take away

'Maths, age 3 – 5' provides …
✔ activities to meet the key requirements for the Foundation Stage
✔ a teacher figure, who shows 'how to'
✔ lots of variety, and fun
✔ progression, and plenty of practice
✔ a quiz at the end of each topic, with a certificate to collect
✔ a 'naming' button, to personalize the app for your child.
Please help support iPadKids by downloading the app using the link below!