Best Free Kids App of the Day is on ongoing series on iPadKids where we hand select a free app to be featured every day. We can only guarantee that the app was free at the time of publishing, so get in quick so you don't miss out!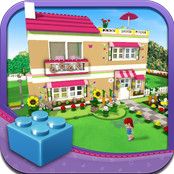 If your little one loves playing dress up, this is the perfect app for her/him. Featuring adorable 3D graphics, and over 200 different outfits, your child can dress up their character until their heart is content.
LEGO FRIENDS Dress Up Game is iPhone/iPad compatible.There's no in-apps or advertising to be concerned about. You do earn money throughout the game to buy new outfits, however it's all virtual.
The soundtrack can get a bit monotonous, so you might want to considering muting your iPad before your child starts playing.
iTunes description:
Meet the LEGO® Friends Olivia, Andrea, Stephanie, Emma and Mia in this exciting dress up game. Full 3D graphics bring Olivia's House and the new LEGO mini-dolls to life.

BEAT THE CLOCK
Can you match your Friends' outfit within the time limit? You'll need to search in Olivia's room to find what you need – under the bed for shoes, in the drawers for skirts and pants, in the cupboard for tops and on the make-up table for hair styles. Press the heart shaped hint button if you need a reminder.

CUSTOMIZE YOUR MINI-DOLL
Earn LEGO Friends money that you can use to create your own mini-doll, picking from over two hundred different items of clothes, shoes and hair styles. Show off your own LEGO Friends style!
Please help support iPadKids by downloading the app using the link below!