Best Free Kids App of the Day is on ongoing series on iPadKids where we hand select a free app to be featured every day. We can only guarantee that the app was free at the time of publishing, so get in quick so you don't miss out!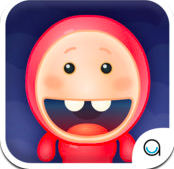 The talented team at Agnitus have just released Learning Games for Preschool to Kindergarten for iPad, and it's a very worthy addition to our Best Free Kids App of the Day series! The app features 6 learning games targeted at 2-5 year olds, all of which are outlined in the App Store description below.
There is are no in-app purchases or advertising to be concerned about. The app also includes a nifty report card that you can email to yourself (or others), to track your child's progress. This is a really great app, that we highly recommend!
iTunes description:
★ 7 curriculum based games for 2-5 years old built-in one app covering Colors, Shapes, Letters, Counting, Memory and Shape Sorting
★ Detailed skill-based report card available for parents

FEATURES
– NO THIRD-PARTY ADVERTISING
– NO IN-APP PURCHASES
– Game levels progress from basic to advanced skills
– Report Cards highlight each child's performance
– Parental dashboard tracks study time
– Supports multiple children

GAMES
1. Colors: Teaches children to recognize, name, and match 11 different colors.
2. Shapes: Teaches children to recognize, name, and compare 11 different shapes.
3. Numbers: Introduces basic counting skills.
4. Letters: Provides practice recognizing letters and words.
5. Memory: Helps children enhance basic memory and recognition.
6. Shape & Number Sorting: Helps children sort shapes and numbers in ascending and descending order

We know children are naturally creative. Children learn through play, and by seeing, touching, hearing, and doing. Enjoying learning, prepares your child for ready-entry into preschool and structured learning environments. Proven techniques are provided here, to help build basic skills that eventually prepare your child to learn reading, writing and arithmetic. Parents interested in detailed reports on your child's progress in these remarkable games, can receive and share Skill Reports via email.

DEVELOPMENTAL CRITERIA
Early Childhood Development (ECD) criteria: learn – explore – anticipate – memorize – spatial cognition – emotional development.
Ideal ages for this playtime game: 2 – 5 years
Please help support iPadKids by downloading the app using the link below!