Best Free Kids App of the Day is on ongoing series on iPadKids where we hand select a free app to be featured every day. We can only guarantee that the app was free at the time of publishing, so get in quick so you don't miss out!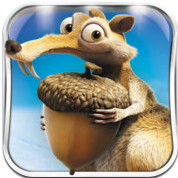 To celebrate the theatre release of Ice Age: Continental Drift, GameLoft released a major update to their much loved and highly rated game, Ice Age Village. The update includes some cool new features for building your own village and some really fun mini games featuring Scrat, everyone's favorite acorn-chasing squirrel.
The game does contain some pretty pricey in-app purchases, so that's definitely something to take caution with.
Ice Age Village iTunes Description:
The official Ice Age app is here! Scrat's hunt for his favorite acorn has opened a crack in the Earth's crust, sending the animals scurrying for safety. Manny, Ellie, Diego and Sid decide to build a new village for their displaced friends. Help them in this heroic challenge and get ready for fun and surprises along the way!

ENTER THE ICE AGE UNIVERSE
• Immerse yourself in the unique world of Ice Age and interact with all of your favorite characters as they lead you on quests and missions
• Play mini-games featuring Scrat, everyone's favorite saber-toothed squirrel

BUILD YOUR OWN DISTINCTIVE VILLAGE
• Build the most beautiful village for all the creatures of the Ice Age world
• Level-up to gain access to new animal species, cool buildings, unique decorations and much more
• Funny quests, side missions and additional daily challenges keep your village bustling with activity

LET YOUR FRIENDS JOIN THE FUN AND SEE WHO CAN BUILD THE BEST VILLAGE
• Invite your friends from Gameloft LIVE! & Facebook to play
• Visit all of your friends' villages – "Like it," take care of it and get rewarded for lending a hand

AND GET READY FOR MORE…
• Frequent updates will include new characters, buildings, quests and mini-games
• You might even receive exclusive sneak peeks of the new film, Ice Age: Continental Drift, in theaters this summer

ICE AGE: CONTINENTAL DRIFT, in theaters July 13, 2012. Scrat's nutty pursuit of the cursed acorn, which he's been after since the dawn of time, has world-changing consequences – a continental cataclysm that triggers the greatest adventure of all for Manny, Diego and Sid. In the wake of these upheavals, Sid reunites with his cantankerous Granny, and the herd encounters a ragtag menagerie of seafaring pirates determined to stop them from returning home. Check out trailers for the film within the Ice Age Village app!
Please help support iPadKids by downloading the game via the AppStore icon below!