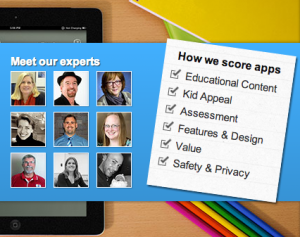 Wouldn't it be wonderful if there was a place that parents could go to find the top 5 children's apps in a broad number of educational categories; all of them chosen by child-education experts? You're in luck! Appolicious just debuted their new website, appoLearning, and it is a great way to gauge, from a professional's perspective, what your child will learn from a given app and whether it is worth your time.
appoLearning has broken down childhood into four age groups into which their chosen apps might fall. These groups are Early Childhood, Elementary School, Middle School, and High School. Each age group is then assigned nearly 100 relevant subject topics such as writing, history, or math. The professional educators who work for appoLearning then curate 5 of the best apps for each subject. In this way, parents have nearly 500 of the top educational apps at their fingertips at any given moment.
After being chosen, an educational app will go under through an evaluation that ultimately renders a 'Report Card' score that spans from 0-100 with 100 being the best possible mark. Apps are graded on educational content, child appeal, progress assessment, features and design, value, and safety/privacy. If an app scores close to 100, parents automatically know it is the best of the best. If is scores lower, they know that their may be a better option available that is more suited to their needs.
appoLearning comes as a refreshing addition to the app-critiquing world as it gets more and more difficult for parents to navigate the murky waters of the app store. Finding an app that suits your child's age level and educational needs without bombarding them with unnecessary ads and in-app purchases can be a real struggle that leaves many parents frustrated. Thankfully, Appolicious may have solved this problem once and for all with the launch of appoLearning.
Source: appoLearning