Just this week, Ansel & Clair, winners of 15 various awards and accolades,have released the second installment in their dinosaur app trilogy. 'Ansel & Clair: Jurassic Dinosaurs' is a fantastic educational app that introduces children to the dinosaurs who lived in the

Jurassic period.
As with all Ansel & Clair apps, the visuals are stunning. 'Jurassic Dinosaurs' animations and graphics bring the ancient dinosaur world to life for children of all ages. The app also includes puzzles and games that teach many facts about the different Jurassic Dinosaurs. Children will learn:
Science – Kids will be able to answer questions like, "Did modern birds evolve from flying dinosaurs?' and "Were there polar ice caps during the Jurassic period?"
Different Dinosaurs– Children will be able to name all of the primary dinosaurs from the Jurassic period, such as: Allosaurus, Apatosaurus, Stegosaurus, Plesiosaurus, and many many more!
Dino-Facts– Kids will learn amazing facts about the dinosaurs from the Jurassic time period, such as: "The Plesiosaurus did not lay eggs! It actually gave birth to live youngsters while underwater!" How awesome is that?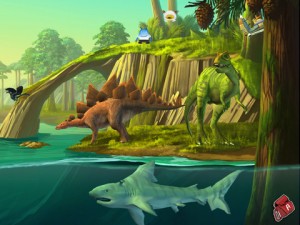 Just as with all of Ansel & Clair apps, this app sports their signature features. The touch-and-drag camera allows kids to snap photos of their favorite Jurassic dinosaurs in their natural habitat, with the simple click of a button! After taking pictures, they can be dragged and arranged in the 'Travel Log'. There is even space for children to type their own notes about each photograph.
Ansel & Clair has won several 'Parent's Choice Awards' and two 'Mom's Choice Award's, so parents can feel confident in the quality and educational value of this and all Ansel & Clair apps.
'Ansel & Clair : Jurassic Dinosaurs' is now available for download via the Apple iTunes App Store button below for only $1.99. This app is available for iPad only.