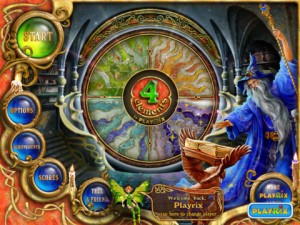 Imagine, if you will, a Tolkien-esque world in which ancient kingdoms are missing vital elements, a sprightly little fairy flits around guiding you through a rescue mission, and dragons and ancient grey-bearded warriors live together in peace.  No, it's not the latest Hobbit cinematic release, it's 4 Elements HD – an app for the iPad that lets you lose yourself in a world full of magic.
4 Elements HD begins by telling a story of a land that has been darkened by evil that has robbed its four elements of energy.  A small fairy appears to give you a somewhat complicated plot line and the directions to help solve the mystery and renew the life in the kingdom.  Books that correspond with the elements need unlocking, and within
each there are cards depicting images of the kingdom and its occupants.
The books can only be unlocking by completing several rounds of the same puzzle with increasing difficulty.  Similar to the jewel puzzle games where chains of same-colored gems must me connected to earn points, the puzzle game also features fun bonuses like bombs to blast through rocks and spades to dig tunnels.  The objective is to get the green liquid "energy" through a path and into the ground where a tree will grow from a seedling.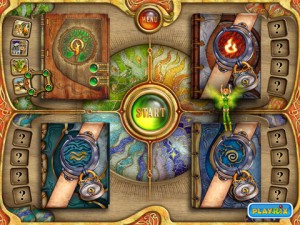 Confused?  Yeah, I was too.  Even though Tinkerbell's distant cousin was giving me written hints at every step of the way, I still had "duh" moments.  I can well imagine that a younger player – like the 7- to 11-year-olds – would easily and quickly become frustrated with the lack of flow in the game.  There's no way that non-readers could play this game at all; even if they had help from readers they would find it way too complicated to continue.  As an adult I enjoyed the challenge of the increasingly difficult levels once I mastered the method.
As a free game this is a great way to pass some time and keep your brain from atrophying while you're waiting at the doctor's office or in line at the DMV.  If you get entrenched in the story like I did, the $4.99 in-app purchase to unlock the full game is a little steep but very gratifying.
Details:
– All new iPad exclusive levels
– 4 books of magic to unlock and study
– 16 mysterious cards to collect
– Gripping storyline presented in beautiful animation
– 64 captivating levels with 20 challenging bonus tasks
– Stunning visual effects and fantastic bonuses
– Enabled Game Center
Pros:
– Ethereal sci-fi style graphics
– Involved and engaging plot
– Several concepts are addressed during game play

Cons:
– The flow of game play is somewhat confusing

Price: FREE, $4.99 for a full game unlock
Age: 7+
Players need to be able to read basic directions and utilize basic problem solving skills.
Please help support iPadKids by downloading the game via the App Store icon below!