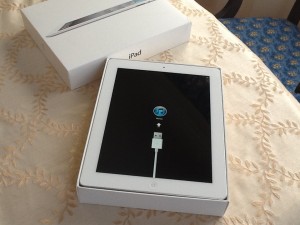 If you consider yourself pretty savvy when it comes to all things gadgety, then this article isn't for you (unless you need an ego boost, then by all means!). However, if you are like me and your first thought when your significant other brought home a new iPad was "Uh, what's it for?", then read on to discover some obvious and not-so-obvious uses for the new addition to your family.
My iPad Can Do What?!?
Surf the Web. Okay, yes, you have a laptop/computer in your home office. However, which is more accessible when you are watching TV with your housemate and he incorrectly insists that there were two different moms on The Fresh Prince of Bel-Air– the iPad by the couch or your computer upstairs? Let the iPad help prove he's wrong! Or is he right….?
Display your pictures. Your iPad can store thousands of photographs and even display them in a running slideshow.
Prevent you from getting lost. Depending on the model of your iPad and/or the apps installed, you may have a replacement for your GPS.
Help you save money on your cable bill.  Say good-bye to your premium cable channels and instead use your iPad to stream Netflix and Hulu Plus directly to your HDTV.
Mobile gaming. Forget about playing Solitaire on your PC. Instead, lose yourself and all your free time in the countless number of visually-stunning games for your iPad.
Make videos.  Most likely your iPad has video-taking capability, and it's probably not too shabby. There are even video-editing apps available to help take your home movies to a higher level.
Read e-books. Take advantage of eBooks from Apple's iBooks, Amazon's Kindle, and Barnes and Noble's Nook, and never be without a good book again.
Video conferencing. Stay in touch with friends and family through the use of FaceTime, which uses your e-mail address as a phone number and allows anyone else with an iPhone or iPad to call you.
Teach/entertain your children. The App Store has thousands of educational and entertaining apps to keep any child busy long enough for Mom and Dad to have some alone time.
Replace your computer. You may start to find dust accumulating on your home computer or laptop as you instead rely on your iPad to check your e-mail, update your Facebook status, and manage your schedule.