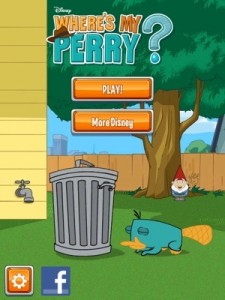 Disney's secret agent platypus Perry is stuck deep underground and you have to dig Agent P out!  Just watch out for lasers, garden gnomes, and confetti along the way!
Price: $0.99
Age: 4+
All ages will enjoy this game but older kids will truly be able to grasp the science involved.
– 80 levels in increasing difficulty with more in development
– Fun and giggle-inducing sounds and animations
– Solutions to puzzles involve real science and physics

Cons:
– This is the exact format as Disney's 'Where's My Water?' app so if you have mastered that, this one is a snooze-fest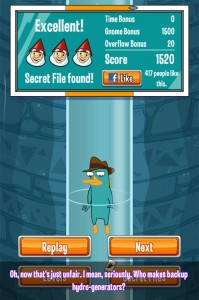 Do you know what kind of noise a platypus makes?  Yeah, neither did I until I played this game. The noise is kind of like the sound my kids make when they are having a chocolate milk-gurgling contest, just for reference.
Where's My Water? follows Agent P, the pet platypus of Phineas and Ferb – the title characters of a wildly popular animated Disney show. The two boys are often far too busy working on genius inventions to notice that Perry (code name Agent P) disappears for hours on end to help foil the evil plots of Dr. Doofenshmirtz. Totally realistic story line, no?
There's trouble for Agent P, though, when he gets stuck in underground transportation tubes on the way to his secret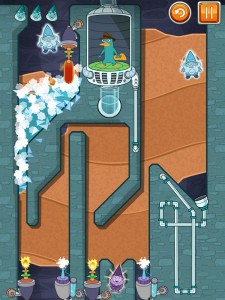 headquarters. I had to move through the levels, swiping at dirt to create a path for water or steam to travel through and "charge" the tubes. I could also collect secret files and garden gnomes to unlock secret "extras" as I played.
If this all sounds mightily familiar, it's because Where's My Perry? is essentially the same game as the other very popular Disney app Where's My Water? featuring our old pal Swampy the Alligator. The storyline and protagonists may differ, but in the end I was still digging dirt and collecting secret "stuff", which was quite disappointing. I had wasted an unreasonable amount of time saving Swampy and it just felt like deja vu all over again.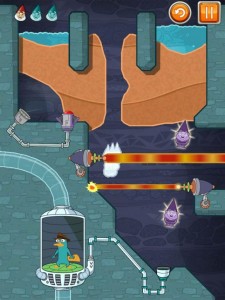 There are some really cool skills being taught within the premises of an easily recognizable set of characters. Players learn about angles and gravity to guide the water through appropriate channels. I also used the lasers and icy levels to explain to my four-year-old about how water can change depending on what's being done to it.
Really, though, the download price is only $0.99 and Phineas & Ferb superfans will appreciate the otherwise vague references in this game. You may want to pass on this app if you're already a little burned out from devoting your precious time to playing Where's My Water?.
Details:
– 80 puzzles in 4 different chapters
– Free upgrades after initial download

Please help support iPadKids by downloading the game via the App Store icon below!