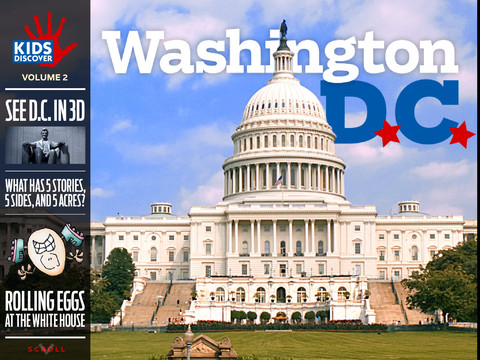 I learned a pretty interesting fact today about the difference between "capitol" and "capital".  When talking about  government the former is used for actual buildings while the latter refers to the location of the seat of government.  So the big white rotunda is a capitol building, but Washington D.C. is the capital of America.  You learn something new each day, huh?
If you know a kiddo that's as interested in learning about the nation's capital (and capitol buildings) then check out Washington D.C. by KIDS DISCOVER.  Developed specifically for young inquiring minds, the KIDS series of apps are comprehensive and visually impressive.  Traveling to D.C. has never been easier and you don't have to deal with that awful traffic on the outer beltway.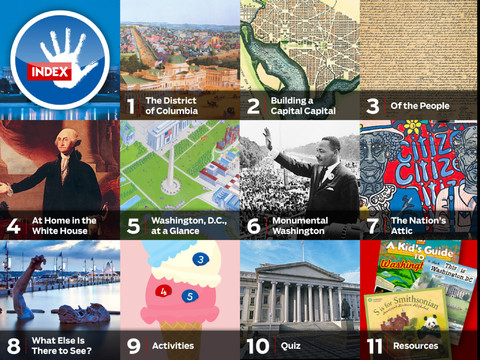 The app is like a what's what of the city, from past history to current day.  Stunning HD-quality pictures and videos set the scene for virtual tourists.  Fun facts and real biographies offer new information that isn't taught in grade school and fun games break up the "learning".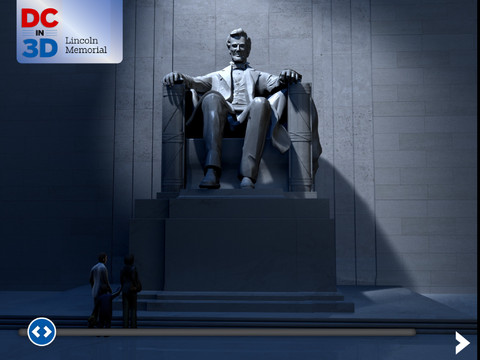 My kids are too young to appreciate this app but I really enjoyed exploring it.  I've never been a huge history buff because I find it a little, well, boring.  But KIDS DISCOVER has really made some of the most serious subjects really fun to learn about.  There's a whole series to download, including an app about Antartica and another about outer space.
Your pint-sized politician will enjoy their little staycation to D.C., for less than the price of a round-trip subway ticket.  Other apps in the series can be bought as an in-app purchase and if you really like what you see you can get a subscription for $19.99.
Pros:
– Amazing 3-D animations of famous government buildings
– Incredibly engaging history and important facts
– Stunning pictures, interactive maps, and a handful of fun games
Cons:
– None; this is another great exploratory app from KIDS DISCOVER

Price: $2.99
Age: 7+
Take a virtual vacation through the history of America's capital city
Please help support iPadKids by downloading the game via the App Store icon below!