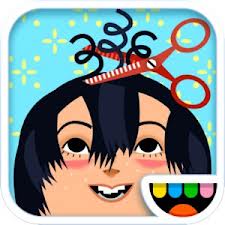 In my house, we love Toca Boca. Whether we are cooking in the Toca Monster Kitchen or styling hair in the Toca Hair Salon 2, all of Toca Boca's apps are top of the line in content and graphics. So, naturally, when Toca Boca releases, changes, or adds anything in their amazing app collection, we need to know about it…ASAP!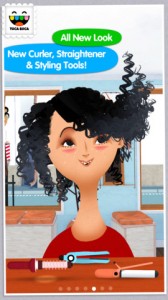 If your kids like Toca Boca's Hair Salon 2, then get excited! The developers of the extraordinarily popular app have added two new, adorable characters for your children to shampoo, color and style! The brand new characters go by the names 'Jazz' and 'Mindy'.  Along with the new characters, Toca Boca developers added some additional content that includes new accessories to decorate the character's new hair-dos with. As a parent who plays children's apps, I find this especially exciting!
The Toca Boca developers claim that the popular hairstyling app has been downloaded in excess of one million times since its initial launch back in December 2012. Having been released for only 3 months, that's an insane amount of downloads! With the addition of new characters and content, I expect Toca Boca will see a leap in numbers over the next few weeks.
Successor to the original Toca Hair Salon, Toca Hair Salon 2 has brought  a lot of different features to the table beyond the original app's options. Kids can now use a curler to curl the characters hair, create more realistic hairstyles and play with a ton of new accessories. The improved features, coupled with the recently added additional characters, should give kids the incentive to revisit a well known and loved app, once again.
Toca Boca's ' Toca Hair Salon 2' is available for download via the Apple iTunes App Store Button below for $1.99. This app is supported by both iPhone/iTouch and iPad and requires iOS 5.0 or later. This app has been optimized for iPhone 5.