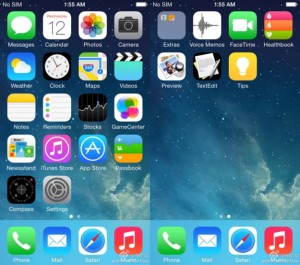 Whether you're a hardcore techie or an amateur iPad user, you know that Apple is constantly updating and improving its software.  On Monday, Apple CEO Tim Cook announced the rollout of iOS 8, with the upgrade being available in the fall for iPads and iPhones.  With the update comes many new and exciting features that can make your family's daily routine even easier and more productive.
Here's a few cool features that will be available in iOS 8:
Family Sharing: Up to 6 family members can share iTunes purchases, which includes not only apps but also music and movies.  Each member has their own account but the credit card has to be the same for all accounts in order to share purchases.  In response to the widespread epidemic of children accidentally purchasing apps and IAPs, this feature also requires any one of the members to get permission for any purchases from the primary card holder.  What it means: Multi-device families are no longer restricted to which apps can appear on which device; everyone within the 6-person circle can access everything purchased.  Also, on top of setting your iPad's purchase restrictions, there's another safeguard against unwanted charges.
HomeKit: Mashable.com writes that this feature "will allow users to users to control locks, lights, cameras, doors, thermostats, plugs and switches at the home via one iOS 8 app, without the need for multiple apps to control each device or function." There's a rapidly growing trend of "smart home" products, and HomeKit (which is now in beta testing) will be the foundation for countless apps utilizing the platform to allow accessibility through mobile devices.  What it means: Parents can rest assured that their older children can get into the house after school if Mom & Dad aren't home by unlocking the door from their mobile device.
App Store Redesign: This was the most exciting announcement for us.  The App Store in iOS 8 has a whole new look, including features like a video preview of apps and a new Explore tab that will make finding the right app easier and more streamlined.  If that's not exciting enough, there's also going to be app bundles offered by developers at a discounted price in a single purchase.   In "cool tech" news, developers can also offer users beta testing versions of apps.  What it means: You won't have to spend a lot of money to get the apps that you – and your kids – really want to play: with the preview option and the bundles you'll be able to accurately assess if the purchase is really worth it before you commit to the download.